Recently apprentices from across the T H WHITE Group took part in our annual apprentice review day which has been running for over 50 years!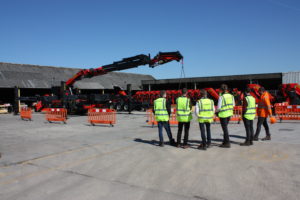 The day saw apprentices gather at our Devizes Group Office and headquarters to Palfinger UK.  The candidates represented our Agriculture, Groundcare, Lorry Cranes and Energy Fire & Security divisions, across the various year groups of their placements.
The Assessors were extremely impressed with the high calibre of apprentices coming through our business.  Participants attended a series of technical interviews and were then hosted by Alan Johnson, Managing Director of Palfinger UK who organised a demonstration and 'drive slot' of our mighty Palfinger Crawler Crane.
Candidates technical scores combined with their 'on the job' assessment from each of their Managers contributed to the final results.
Huge Congratulations to our winners:
Year 1 Winner: Charlie Cooper ( Agriculture, Marlborough)
Runner up: Arthur Brind (Agriculture, Knockdown)
Year 2 Winner: Connor Moseley (EFS, Devizes)
Runner up: Warren Hibberd (Agriculture, Marlborough)
Year 3/4 Winner: Will Hatch (Agriculture, Frome)
Runner up: Finn Jones (Agriculture, Warwick)

Winners received a prize of £200 to spend in our parts stores and £100 for runners up. A great chance to fill up the tool kit!
Our apprenticeship program is a great way to get industry experience and skills, in a hands-on working environment, suitable for any age from school leavers aged 16 and above. With no age barrier, it is never too late to get started. Combining a mix of on the job learning and academic modules from specialist colleges for each given sector, our apprenticeships are a great way to get started in a career with us.
This year, the increase of apprentices we are taking on across 7 of our divisions and the introduction of new apprenticeships, there is an abundance of opportunities for new applicants to gain specialist knowledge of an industry segment. With many previous applicants going on to have rewarding long term careers with us working their way up to management level, future job prospects for our apprentices are substantial.
There are no particular entry requirements, just enthusiasm! We accept applications for our apprenticeships at anytime throughout the year, as some courses don't run on a typical school term. So, if you are interested or have any questions please don't hesitate in getting in touch, or keep an eye out at local school career fairs where you will find us exhibiting.
To learn more about the T H WHITE Group apprentice scheme visit thwhite.co.uk/apprenticeships or get in touch with our HR Manager- Joe McTiernan: 01380 722381, joe.mctiernan@thwhite.co.uk