WESSEX INTERNATIONAL – KNOWN FOR RELIABLE, ROBUST, BRITISH MADE IMPLEMENTS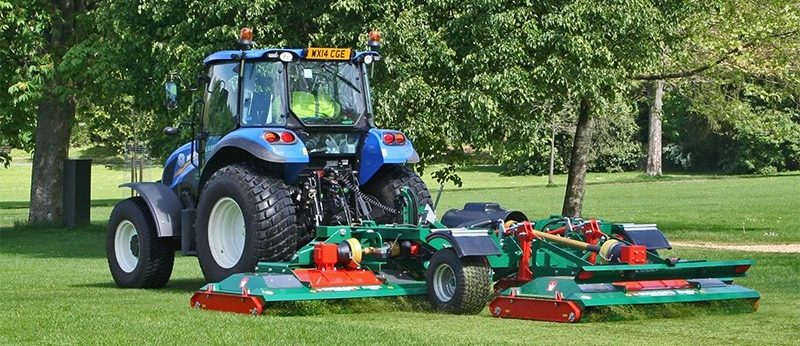 Renowned for UK built implements and attachments, the Wessex name has been synonymous with superb quality and British design and build since 1962.  With a great range of compact tractor attachments and groundcare machinery to choose from, Wessex provides everything from rotary, flail and roller mowers through to toppers and paddock sweepers.  And what's more, this equipment is at home on golf clubs, sports and recreation spaces, local authority spaces and private estates making it one of the most versatile brands in the T H WHITE portfolio.
The CRX MultiCut series of rotary mowers is truly multifunctional, used either as a professional roller mower with full width front and rear rollers, a finishing mower with 4 fully castoring wheels, or a combination of the two with castoring wheels on the front and roller on the rear.  It's mowers can be front or rear mounted thanks to reversible linkage, side or rear discharge and also offers mulching.
Wessex out-front flail mowers offer increased operator comfort over rear-mounted machines, offering increased visibility and maneuverability in confined areas.  The ProLine roller mower is not to be confused with a rotary topper or finishing mower. With full width rollers front and rear, precision blades and an exceptionally high blade tip speed, it offers a premium cut creating a professional striped effect with ease.
Additional equipment from Wessex includes ATV attachments such as flail and rotary mowers, paddock cleaners, sweeper collectors, spreaders, roller and sprayers.
Right now we have a few select offers on recently landed stock including the Wessex RMX 180 roller mowers, the CRX180 Combination Mower and the CRX320 Multi Cut rotary mowers including:
CRX 180 Only £5,550 + Vat
RMX 180 Only £6,750 + vat
CRX320 Only £22,975 + Vat
So give your T H WHITE Groundcare rep a call today to find out more…