A warm welcome to Chris Grisedale who joins our Groundcare team as our new Sales Representative for Hampshire and Berkshire, based from Stockbridge.
Chris has always had a keen interest in machinery, studying mechanical engineering at Eastleigh College where he quickly realised that he prefers talking about the technology rather than fixing it!  After a short spell in the Construction sector, Chris began working for Winchester Garden Machinery and now sees his new role at T H WHITE, as a natural progression of his sales career.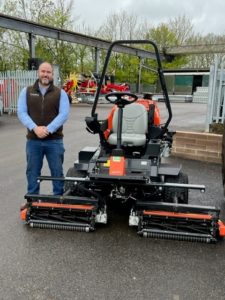 Taking the reins from Mark Zealander, Chris has spent his first fortnight introducing himself to customers and suppliers.  He's already demonstrated a number of machines to prospective clients, attended a Wessex Machinery factory tour, sold a Smithco roller to a local golf club and a Wessex CMT150 to an estate owner with a sizeable acreage to tend to.  Chris is certainly hitting the ground running.
Chris is excited to be joining such an experienced team with a broad machinery offering.  Commenting on the wide range of machinery available from T H WHITE Groundcare, he is very impressed with the British brand Wessex International which provide everything from multicut rotary, flail and proline roller mowers through to toppers and paddock sweepers.  Chris states "The designs are simple.  A quality offering from a trusted brand.  Just what customers want".
He goes on to commend the Ventrac mower for its versatility and endless range of flexible attachments for just about any task.  "I have loads of interest in this machine and several quotations being considered already".
Chris lives in the heart of his sales territory in Winchester and spends much of his spare time DJ'ing.  Music is his passion, and his love for drum and base is being instilled early for his son!
Chris will be contacting all existing T H WHITE customers in his new area over the coming weeks but in the meantime you can reach him directly on 07876 396635 or chris.grisedale@thwhite.co.uk.
We wish you a happy and prosperous career with us Chris.