Wiedenmann's Terra Spike brand offers no fewer than 11 machines so there is quite literally an aerator to suit everyone. But who buys what?
According to Weidenmann's  UK Sales Manager, Chas Ayres, the starting point generally depends on the answer to two questions; a) what do you want to achieve? and b) what size is the tractor?  The filtering process then moves to factors like required depth, speed, size of site, versatility and budget concluding normally with a match of one or two aerators that often can be demonstrated in situ.
"Mostly purchasers have already identified they have issues with compaction or thatch, or indeed, a combination of both. Solid tining is the traditional route to resolve compaction. Usually clients volunteer where their specific problems lie, typically somewhere in the range of 100 mm to 300 mm below the surface," he said.
"Machines range from a competent 220 mm to 400 mm, so most machines remain in the frame. If thatch is severe then perhaps the aerator's focus will be hollow coring. Depth here wouldn't be as big as a concern as thatch normally occurs in the top 50 mm of the soil layer, but a faster machine could be favoured as it produces optimal hollow coring results."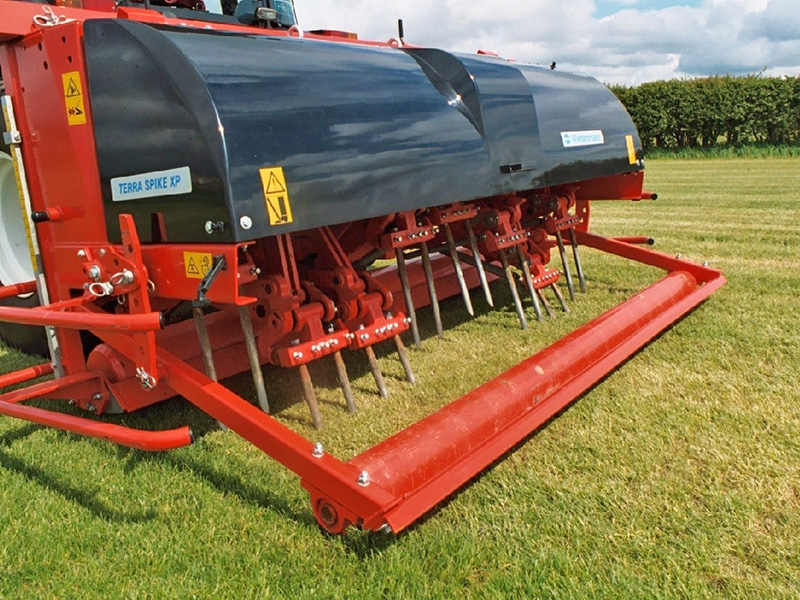 Knowing which tractor will be used is essential – the larger the aerator the more hp is required. Tractors from approximately 25hp to 60hp can all accommodate one or more aerator. Importantly, the aerator's working width should be slightly wider than the tractor wheel span preventing issues with tyres tracking over newly tined ground. Wiedenmann's fleet goes from working widths of 1.35m right the way up to 2.1m so contractors or those with considerable territory to cover, such as estate managers, might start by looking at the widest machines first.
The name badges attached to the Terra Spike fleet give a clue to each area of machine speciality – the extra fast XF, the extra deep XD, the extra penetrative XP while the 'G' prefix on the GXi relates to its suitability to greens and fine turf areas.
All Terra Spike aerators have easy-to-operate controls for depth and heave settings that are tool free. Changing tines takes less than 15 minutes. By using a variety of tines in combination, soil decompaction and soil exchange can be done cost effectively using only one machine.
An excellent anti-vibration system significantly reduces any vibration through the tractor to the operator. Another advantage delivered by Wiedenmann machines is the consistently regular hole pattern and clean finish. Wiedenmann machines prove daily that aeration can be done quickly and effortlessly without leaving tell tale signs.
Versatility is the key with all the Terra Spikes, the XF, the XD and the XP can access all areas, so can be seen widely on golf courses, municipal sites and club pitches, and are capable of serious decompaction and promoting gaseous exchange far below the surface.
"Once someone has expressed interest in seeing a Terra Spike, generally the T H WHITE team and I will arrange things so that I can attend too," continued Chas. "On arrival we hitch the Terra Spike to an existing tractor so that it's a totally genuine in-situ experience for the customer and they see how their tractor and aerator perform together. We take the machine maybe through a tight gate or somewhere with undulations if that's a priority, or sometimes with two machines, it all depends. We conduct all the H&S training for the demo and ensure everything is safe. Then, if the customer purchases the machine, we come back again and do a very specific H&S briefing and handover involving all members of the team that will be operating the machine."
To find out more contact your T H WHITE Groundcare representative today.