Väderstad Carrier Disc Cultivators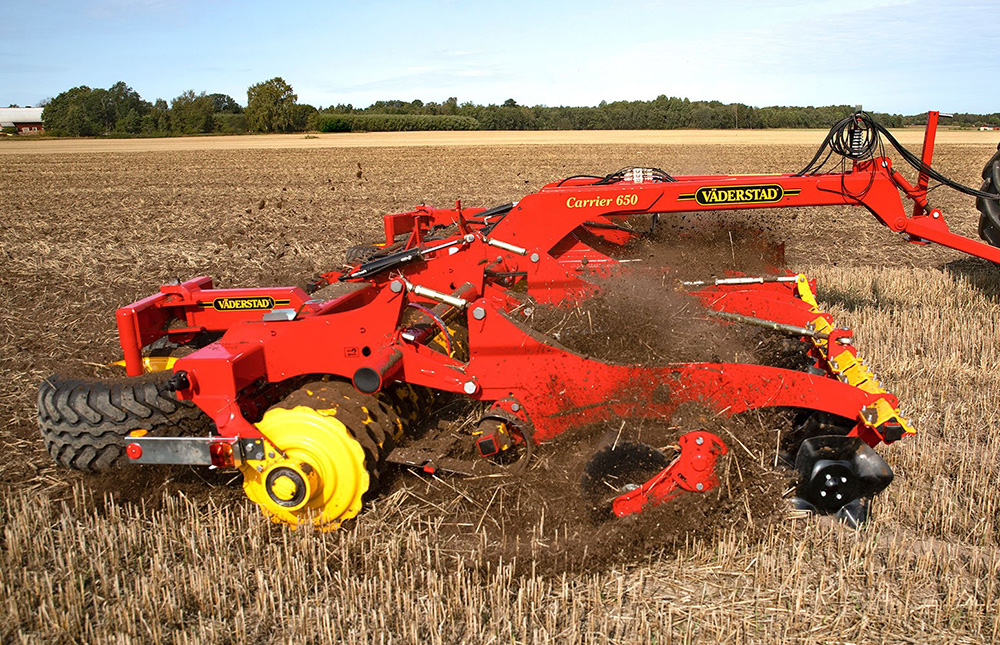 Väderstad's range of Carrier disc cultivators are true multi-taskers designed for high speed tillage and seedbed preparation with a wide range of front tools, discs and packers. Versatile in handling ultra-shallow to deeper cultivation, the Carrier saves passes, decreases machine cost per hectare and provides the best start possible for the coming crop.
Available in a wide range of working widths from 3m to a massive 12.25m, Carriers can be configured for five main tasks; stubble cultivation, incorporation, seedbed preparation, small-seed drilling and pest prevention. A full range of disc sizes are available from ultra-shallow tillage at 2-3cm depth up to 16cm working depth.
Each disc is individually mounted on a rubber suspended disc arm. This increases the penetration capability and improves the ability to follow the ground contour. The conical shape of the disc produces fine tilth and mixes residues evenly ensuring the same working angle is maintained irrespective of wear and working depth.
Väderstad TopDown Multipurpose Cultivators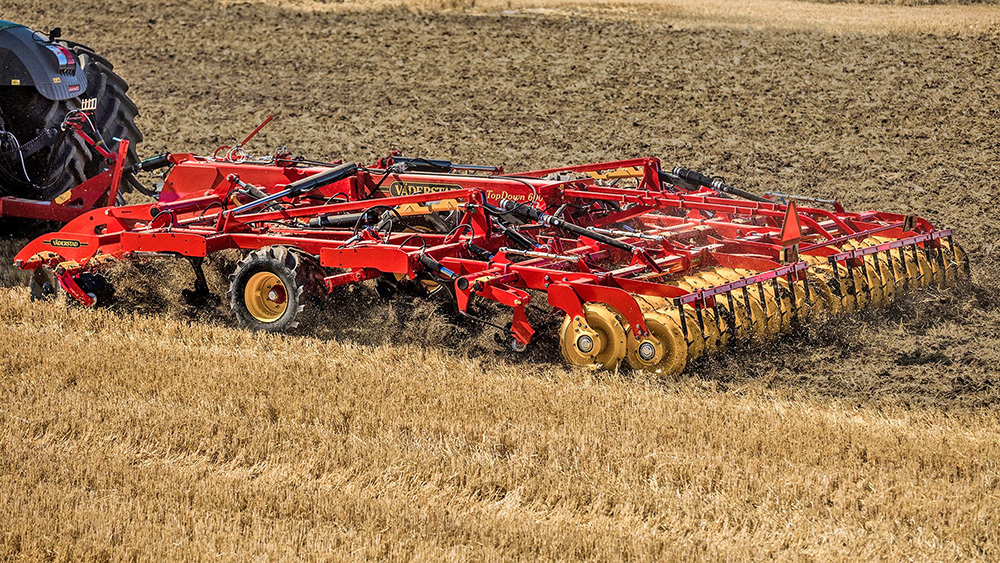 Väderstad TopDown multipurpose cultivators can perform both a full-scale shallow cultivation and a deep cultivation in one single pass. They combine an intensive disc cultivator along with a robust three axle tine cultivator in the same machine.
12.5cm spaced discs on individually suspended disc arms, creates fine tilth by cutting and mixing the top soil. The 27cm spaced tines then loosens and mixes the soil and crop residues down to 30cm working depth.
In the final two working zones, the leveller and packer then concludes by ensuring an even and fully reconsolidated surface. To adapt to varying soil conditions, the working intensity of the discs can be adjusted from the cab on the move.
The TopDown is offered in working widths from 3m to 9m.
Väderstad Rapid

The Väderstad Rapid RDA600S is the seed drill that carries out seedbed preparation, levelling, drilling and re-consolidation in one pass. This model comes with the hardy System Disc Aggressive, track eradicator tines, bout and pre-em markers, interactive depth control, a tramline kit, reinforced tyres, work lights, wireless Gateway technology and E-control as well as Väderstad's SeedEye – a unique calibration system for seed counting and monitoring.
Väderstad Tempo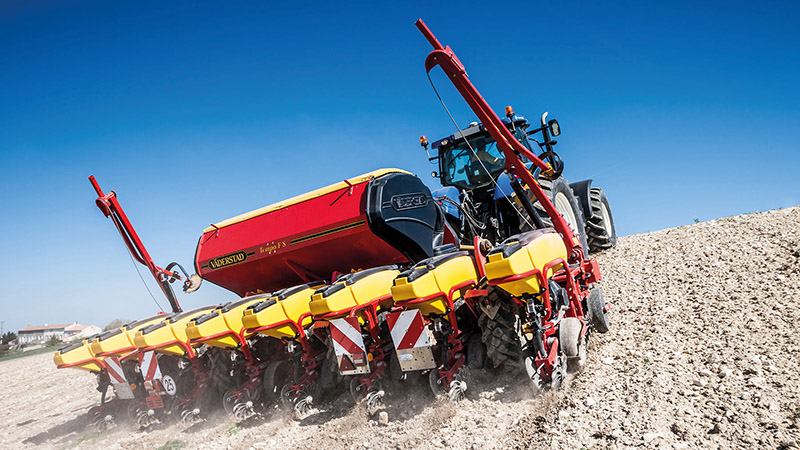 The Tempo TPF8 planter is the new generation high-speed planter, delivering unmatched precision at double the speed of traditional planters in all conditions. Equipped with hydraulic support wheels mounted between the row units, this avoids any tilting in hilly conditions and the wide tyre profile maintains the working depth irrespective of soil type. This 8 row model has four support wheels coupled as a hydraulic unit ensuring an even load and smoother ride further improving planting precision. Fitting most tractors Tempo has low hydraulic requirement, self-sufficient electric power and requires low draught force. This drill is offered with E-Control or ISOBUS control system and the option of a fertiliser kit, disc markers and hydraulic weight transfer.
For more information please contact your T H WHITE Agriculture rep.