Kuhn Master 153 plough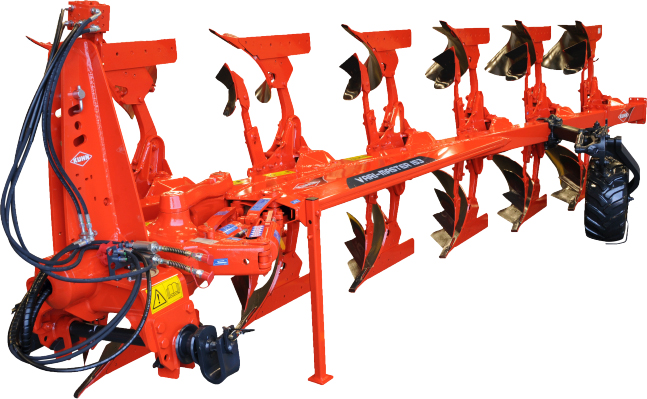 The Master 153 plough is considered by farmers around the world to be the market leader for reliability and usability. Its 150x150mm frame combined with genuine forged parts is designed to cope with intensive use and difficult working conditions, delivering performance that results in high yields.
This versatile mounted plough is available with 4 to 6 bodies for tractors from 95 to 270 hp and has two cutting width systems – 14ft, 16ft or 18ft mechanical systems, or the hydraulically controlled Vari-Master which can be set for any width between 12ft and 20ft, depending on the inter-body clearance of your plough. Vari-Master is ideal for farmers and contractors who have to contend with variable conditions such as uneven ground, lack of grip, the type of residues to bury and heterogeneous soils.
High performance safety devices are available too. Adjustments are simple and tool-free. Added comfort comes from the Optidrive suspended headstock which adapts to the weight of the plough by changing the pressure of the hydraulic system.
KUHN Megant seed drill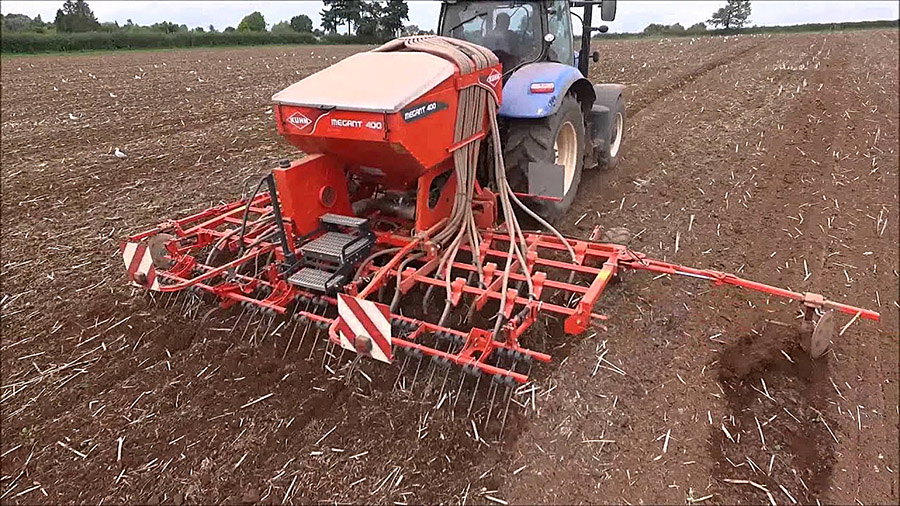 The Kuhn Megant is a mounted tine seed drill for min til seeding, available in working widths from 4m to 6m.
As well as ensuring quick and even crop establishment on tilled or min till soils, the Megant will reduce seeding time with no compromise on quality. Its 1,800 litre hopper has the capacity to seed up to 60 hectares a day. Being a lighter design than most competitors, it can be driven faster with tractors of only 150hp.
The 4 tine rows allow residues to pass through easily with minimal blocking, while folding side markers make for easy field border seeding and the rear roller improves the ground after seeding.
The seeding tines are mounted on a beam with and feature a unique profile with polyurethane blocks. Combined with a specific tine profile, this ensures good penetration capacity and stability, ensuring a regular seeding depth. A vertical travel range of approximately 15cm allows the machine to overcome large obstacles. The seeding tines enable you benefit from fast seeding without modifying the establishment quality, at the same time ensuring seeding lines free from plant residues plus good soil penetration, even with reduced ground pressure. You can seed on ploughed or min-tilled land thanks to a simple design which minimises maintenance.
Electronic management with Quantron S-2 control box
A colour screen allows you to monitor different functions such as the distribution drive via an electric motor, the blower, the minimum seed level or the side markers. As far as seeding management is concerned, distribution is started and stopped directly, application rate is adjusted during work and displayed in kg/ha and you can change it instantly without recalibrating. You can also access factory setting tables for 14 different varieties and calibrate the seed drill via an electric motor. Setting tables for up to 30 seed types make adjustment easy and fast. The daily counter also indicates the hectares, hours of work, quantity sown, as well as being able to store up to 200 fields by name, seed type, quantity sown, worked hours and start/end dates.
For more information please contact your T H WHITE Agriculture rep.