Production set to start in second half of 2024 at New Holland's Alternative Fuels Centre of Excellence in Basildon, UK
New Holland announces the expansion of the brand's alternative fuels product portfolio with the global debut of the new T7.270 Methane Power CNG (Compressed Natural Gas) tractor which takes its alternative fuel offering one step closer to becoming a full line Clean Energy brand.
Based on the T7 with PLM Intelligence platform and the latest Horizon Ultra cab, the tractor features New Hollands new 'clean blue' colour and the proven NEF 6.7-litre methane-fueled engine with peak torque of 1,160Nm, and produces a maximum 270hp under all conditions, offering the performance customers expect in this segment.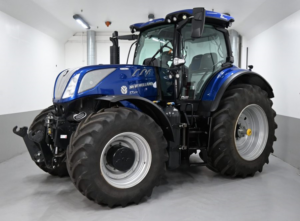 Greater productivity has been made possible by making full use of the T7's larger chassis to maximise on-board gas storage. With 1,265 litres (219kg on board), the T7.270 CNG holds 178% more fuel than the T6.180 Methane Power (455 litres/79kg). The result is a tractor not only more powerful and capable of working with bigger implements, but also able to complete more working hours between refueling stops, considerably increasing productivity and range.
Because methane is a cleaner-burning fuel, a selective catalytic reduction (SCR) system is not required, freeing up space for fuel storage. Furthermore, the T7.270 Methane Power CNG can be used with all methane and biomethane sourced from livestock manure and slurry. It will make it the ideal solution for biodigester operators often running a fleet of multiple haulage tractors. In addition, it is suited to the demands of larger scale arable farms and contractors, and more complex commercial businesses conducting year-round varied applications with heavy-duty implements. The combination of methane power technology with proven New Holland T7 features is designed to offer potential customers a blend of low operating costs, autonomy, reliability and driver comfort. The model also features continuously variable transmission (CVT) for a smoother driving experience and a more efficient fuel consumption and caters for 18t+ trailer users.
While similar to the diesel-powered T7.270, the T7.270 Methane Power CNG differs in a few areas:
Beneath the cab, new supports and the battery relocated to the left-hand side frees space for a larger gas tank.
The cab itself is the award-winning Horizon Ultra, the quietest in the industry, with an interior noise level of just 66 decibels, and offering a roomy 8% more space
Fitted with PLM Intelligence solutions, which integrates digital technologies to allow two-way transfer of machine and field data between the tractor and the MyPLM Connect online portal, allowing owners and managers to monitor machines, and dealers such as ourselves to provide remote support.
Growth in the biogas sector continues to increase with over 17,000 biogas plants in the EU. The potential for biogas is constantly increasing, particularly as many government policies are moving subsidies away from crop-fed to waste-fed AD plants.  The first production T7.270 Methane Power CNG tractors have undergone tests this summer and will be available to purchase in the second half of 2024.
We believe it is strategically important to invest in methane and are proud to offer this new model in the New Holland line up.
Talk to us about the efficiencies alternative fuels can provide here.