Battery-powered electric tractors enter mainstream agriculture following the commercial launch of two 55kW (75hp) models. The Case IH Farmall 75C Electric and New Holland T4 Electric Power are all-electric utility tractors with the same equipment that a diesel-fueled tractor of equivalent power would have.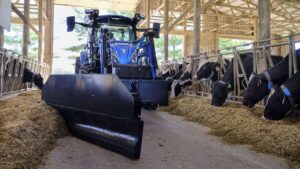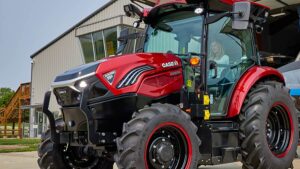 These two machines are unique in the industry. As fully battery-powered vehicles, they are the first zero-emission light utility tractors with no internal combustion engine.
Both machines represent New Holland and Case IH's most recent step in their plans for electrification. Being developed in record time in the US and Italy, in partnership with Monarch Tractor – an agriculture innovator based in California, the project prioritised three goals: customer experience, extended runtime and outstanding performance, while committing to a sustainable and compact dimension.
The industry's first all-electric tractors in the utility segment with innovative and unique autonomous features included
First European public showcase following unveiling at CNH Industrial's Tech Day in Arizona in December 2022
First milestone towards CNHi's strategic plan for electrification
These first-generation battery electric vehicles are compatible with all conventional implements. Batteries offer excellent runtime, with up to one full day of use possible dependent on workload, and a recharge time with fast charging systems of just one hour. The tractors can also be used as a backup power source for other devices and machines and can provide energy for implements. They have telematics and other connected systems, and a couple of impressive autonomous features to make life easier for the operator – including passing through a gateway without the operator being on board, and a feature that enables an operator on foot to move the tractor without climbing aboard.
Operational comfort is also enhanced. Noise is reduced considerably, and vibration is substantially dampened. This allows for night-time operation and improves livestock wellbeing, especially when working inside covered areas like barns.
The new models are the culmination of CNH Industrial's exclusive technology licensing agreement with Monarch Tractor, a US-based start-up founded in 2019 to develop an electric tractor with autonomous capabilities.
Familiar components
Four-wheel drive, a proven 12×12 transmission with electric power shuttle, multiple rear and mid-mounted remote hydraulic valves, and a full-size cab are among the familiar elements.
As a result, the new Case IH and New Holland models could easily be mistaken for diesel-fueled tractors – but for the charging and electric tool power sockets adjacent to the left side of the cab. Although the hood on these two groundbreaking machines now shrouds a lithium battery pack of 110kWh max, 95kWh usable capacity generating 55kW (75hp) for propulsion and hydraulic power, with 48kW (65hp) available.
Find out more about these ground breaking new tractors, which will launch in 2024. Contact your rep here.