Our offers on Kuhn & Kverneland machines make winter feeding and bedding so much easier.
A feeding and bedding routine that features Kuhn & Kverneland equipment will save labour and improve herd health.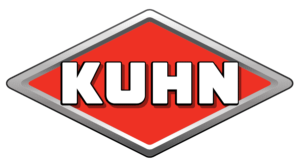 PROFILE 2 CL mixers have 2 vertical augers, a large hopper and feed out via a cross-conveyor. These machines are suited to herds of between 90 and 265 cattle, designed to make the most of maximum tub capacity with the lowest possible overall height.  The double-pitch angle of the auger enables quick breakdown of feed, no matter how full the machine already is.  To reduce power consumption, this unit is equipped with 6 asymmetric knives which have a "self-cleaning" effect and also have a progressive-cutting knife edge for constant torque transfer. The continuous auger helix naturally moves the fodder from the bottom to the top of the tub for even mixing with no forced movements, reducing fuel consumption during the mixing process.
The height/width ratio of the mixing tub places the mixers in the PROFILE 2 CL range firmly among the most compact solutions on the market.  The integrated chassis reduces overall height, while retaining excellent ground clearance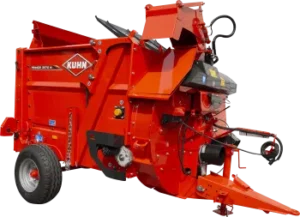 Kuhn PRIMOR Straw Blower & Feeder
With adjustable regulating tines, this versatile machine can cater for square or round bales
The PRIMOR has been designed and developed for farmers looking for a straw bedder and feeder compatible with 50 HP tractors (70 HP for haylage bales).  It's large capacity cuts down on handling times: 1 bale with a diameter of 2 metres, and 2 of up to 1.5 m in diameter.
The adjustable regulating system with 3 preset positions is key to its flexibility.  For difficult foodstuffs such as long fibres and haylage bales, the low positioning of the boom prevents forage from getting into the turbine, ensuring fibres are effectively and evenly distributed.  Setting the tines to the raised position allows an increase of the flow of straw into the turbine with minimal flattening. Maximum blowing distance is up to 18m.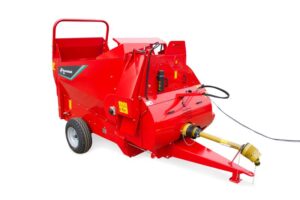 Kverneland Baler Chopper
Bale choppers & feeders with a range of load sizes available.
Designed to provide more capacity to shred material faster, the Chopper's flywheel housing and blowing paddles have increased in dimensions to increase performance.
With four stage swiveling chute, drum feed control system, knife configuration and 2 speed gearbox this spec is impressive and a turning radius of 260° enables easy access to difficult to reach spaces.  Maximum blowing distance is up to 20m.
Kverne
land Trailed Line Classic Compact Diet Feeder
Two-speed gearbox, single auger, straw blower, weighting system, and choice of size and discharge options.
The Kverneland Silo king Trailed Line Classic Compact range with one turbo auger is ideal for use in confined buildings with small or low passages. The short chassis of the TMR mixer is particularly flexible and easy to manoeuvre. The drive and the frame are designed for maximum continuous load.
Underrun protection with lighting and the ladder mounted to the frame come as standard and thanks to the hopper geometry and the robust drive, the TMR mixer can be used for both standard and non standard activities such as breaking up round bales and cutting down long-fibered feed.
Also featuring wireless control.
Kverneland products are available from our Hereford, Warwick and Stourport branches – while Kuhn products are available from all other branches (except Stockbridge).
To take advantage of any of these offers, get in touch with your local Agricultural rep today.