T H WHITE Group – one of Wiltshire's longest-established businesses – is helping to re-establish one of Britain's largest and most magnificent birds.
The Great Bustard is the world's heaviest flying bird, weighing in at as much as 20kg. A mature male can often stand over a metre tall with a wingspan of more than two metres. Once one of the nation's most beloved birds, the Great Bustard was sadly hunted to national extinction in the 19th century and its future worldwide is now uncertain.
To protect the future of the species the Great Bustard Group was formed in 1998 and has succeeded in establishing a healthy, wild-living population of about 100 birds at a reserve on Salisbury Plain. Work is now in progress to develop a captive breeding programme to ensure that the number of Great Bustards in the UK continues to grow, enabling it to be re-established in other parts of the country too.
T H WHITE has joined other eminent businesses in becoming a Corporate Member of the Great Bustard Group, helping to ensure that it can continue to expand and deliver its objectives, a key aim being to develop a new visitor Centre and project HQ on Salisbury Plain.
Individuals can also support the Great Bustard Group by taking out a personal membership at the famous Bustard website (https://greatbustard.org) where attractive ranges of clothing, homeware and accessories are offered, as well as tickets for photographic and viewing sessions, with 100 per cent of the proceeds helping to finance the ongoing work of the Group.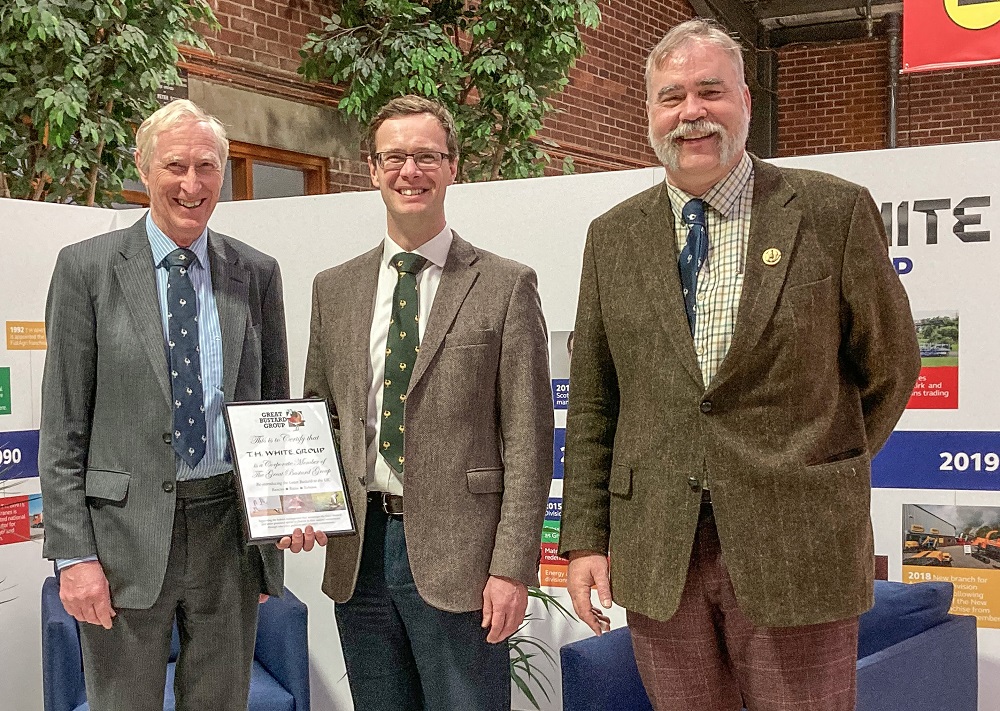 Left: T H WHITE managing director Alex Scott (centre) with his father David Scott (left) and David Waters, Founder of the Great Bustard Group