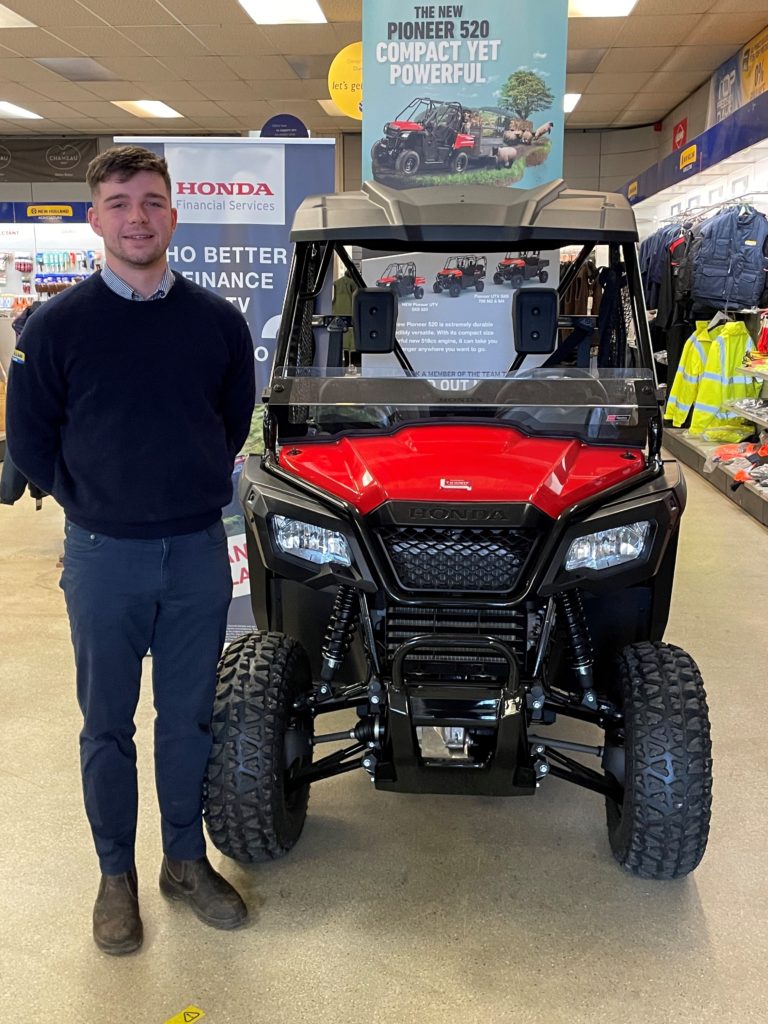 Exciting times ahead for T H WHITE Agriculture employee- Jack Roberts. In the short space of time since starting his career with the business in September 2020, Jack has already made an impact and has progressed into a new sales role.
His career began working behind the parts counter at our Knockdown branch, and in September of this year he took the step to join our sales team. He will be specialising in smaller estate machinery, using his background in farming to his advantage.
Growing up on a sheep farm, plus working across various arable farms, Jack is no stranger to the advantages that utility vehicles bring to ease the workload on a busy farm and knows what benefit our leading ATV/UTV products will be to our customers. "I am looking forward to working with farmers as the farms modernise and progress". Jack already has a keen interest in our brands: Honda, Logic and Kawasaki and is looking forward to learning more from our ATV specialist, Tim Rochfort, and also one of our experienced sale representatives Andy Taylor as he works alongside them both.
Here at T H WHITE, we value our employees and their development into new roles; to assist in gaining wide sector knowledge and the opportunity to work with market-leading brands. So, when we hear the news of staff progression, we know we have been successful in portraying our values of teamwork and a can-do attitude.
We look forward to seeing Jack thrive in his new role, and excited to see what the next 12 months will bring for him.
Jack will be supporting our Knockdown branch, whilst also covering the Marlborough area for estate machinery. He will be introducing himself to all existing T H WHITE customers in his area over the coming weeks but in the meantime, you can reach him directly on 07860 712963 or jack.roberts@thwhite.co.uk