Our Energy, Fire and Safety specialist team recently completed another Swarco EV Chargepoint installation – this time at Torquay Community Fire Station in the beautiful county of Devonshire.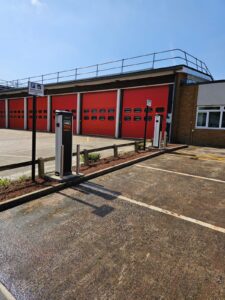 As an active emergency response site, it was important to ensure minimal disruption throughout the project and to keep the on-duty staff safe whilst the team continued their community response.  Activities at community fire stations not only cover critical calls to fire emergencies but also include fire prevention, road safety, commerical building risk assessments and home safety advice too.
Our specialist technical and civil groundworks teams formulated charger bases, protection bollards, EV signage and ducting to compete the 2 bay, SWARCO eVolve Master T AC 22kW chargers that will be used to charge the staff and service vehicles.  The grounds work team went on the carry out a small amount of landscaping too, to produce the perfect finish for this fully managed T H WHITE Project.
Ensuring the Fire Station operation wasn't effected by the work, we positioned clear signage and barriers denoting the T H WHITE area of work, and created clear safe walkways to aid the entrance and exit of the building. A dynamic risk assessment was also implemented to accommodate an emergency response event as needed.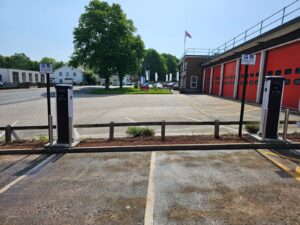 All this is expected by our teams who are completely at ease with working around active business operations.  With nearly 30 years of sector experience in fire, security and EV charge point installation our teams are expert in installation and commissioning.
If you have an EV charge point project that needs an expert build, speak to our EV specialists on 01380 726656 to arrange an on-site survey of your premises.  Alternatively visit efs.thwhite.co.uk to learn more about all our energy, electrical, fire and security capabilities.