While Others Scramble to Figure it Out, We've Perfected It.
With 225,000 golf carts and counting, on more than 2,000 courses worldwide, with more than 65 million field hours, E‑Z‑GO® ELiTE Lithium Vehicles are the proven leader in lithium performance. Powered by advanced Samsung SDI Lithium Technology, E‑Z‑GO was not only the first to bring lithium performance to golf course fleets but they set the bar for battery life, cost of operation and efficiency too. Now they deliver that same experience, with a lighter, more compact battery design. Others have tried to catch up, but the numbers speak for themselves.
More efficient than any other golf cart.
ELiTE Lithium golf carts not only perform better, they cost you less to operate, year after year.
ELiTE Lithium vehicles use half the out-of-wall energy than a lead-acid golf cart. And there's no need to wait for a full charge to get back on the course.
With up to 15% greater efficiency than other electric golf carts, ELiTE Lithium vehicles still have enough charge after 36 holes to play another round.
With a lighter, more compact battery than ever, ELiTE vehicles are easier on turf, so your course looks better, longer.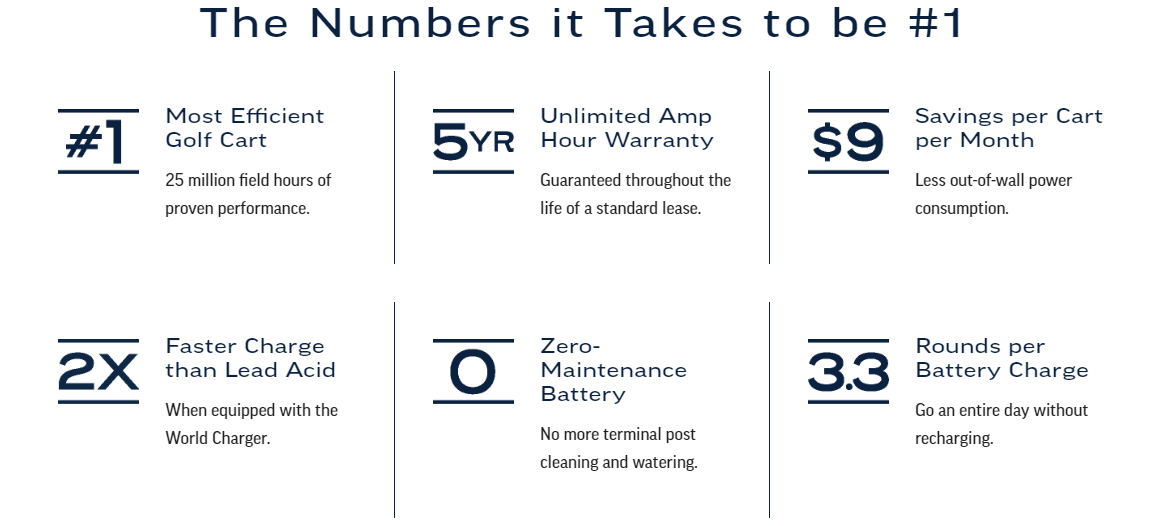 E‑Z‑GO's ELiTE Lithium vehicles utilize trusted and reliable Samsung SDI lithium batteries and an advanced Battery Management System that makes these vehicles completely worry-free.
Get unbeatable performance from your ELiTE lithium vehicles for its entire life.
Unlike traditional lead-acid batteries, no terminal post cleaning, no watering, no problems.
Leave it for winter with easy storage steps.
Contact your T H WHITE Groundcare rep to find out more about the world's most efficient Golf Cart.