A big milestone arrived for two apprentices working at our Frome branch, who have successfully completed a 4 year Apprenticeship through T H WHITE's Apprenticeship Scheme. Their graduation was celebrated last week with a presentation of certificates from company CEO Alex Scott; taking the opportunity to congratulate them on the completion of the course and to wish them all the best for a long and successful career here at T H WHITE.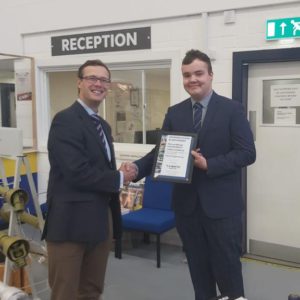 The first certificate was presented to James Hamblin, who in 2016 took an Electrical Installation course at Bath College, where he was introduced to T H WHITE by way of work experience.  After a successful week working alongside the Dairy engineer team, James decided to have a change of vocation and embarked on a 4 year Apprenticeship studying Refrigeration and Air Conditioning to Level 3. James is now a fully qualified member of the refrigeration team, taking on Installations, service and breakdowns across the South West. Well done James!
Secondly Elliot Moon, who after a successful work experience from school was offered an apprenticeship at the age of 16. Throughout the apprenticeship he studied at Reaseheath College where he successfully completed a Level 3 apprenticeship in Land Based Service Engineering. Congratulations to Elliot, who over his time at T H WHITE, has become an important and well-respected member of the service team at Frome, where he will continue to work on equipment of all sizes from small balers to much larger combine harvesters.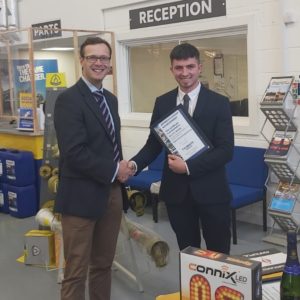 At T H WHITE, we run a comprehensive and practical apprenticeship scheme for school leavers aged 16 and over. Opportunities exist within every division of the company and all incorporate a day of block release at college to gain the knowledge element of the qualification, with on-the-job practical experience gained in our workshops or on site. Apprenticeships are a great way to get industry experience and skills, in a hands-on working environment.
More information and how to enquire for our apprenticeship schemes can be found here.