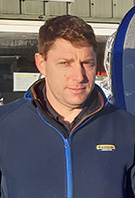 One of the great things about taking machinery on-farm to give demonstrations is that you can see what the kit actually does, rather than just taking the manufacturer's word for it. As a result of hands-on experience of machines from all our suppliers, our Chief Demonstrator Mike Quilter has built up extensive knowledge.
New Holland RB125 Combi Baler
"The New Holland RB125 Combi Baler really is a piece of kit that can save a lot of time, not to mention a tractor and an operator," says Mike. "I took one on demo to H A Farming at Minsterworth where silage harvesting was in progress.
"Essentially this new baler is built on the same basic structure as an original RB125 fixed chamber machine, with a drop floor to clear any blockages easily, as well as retractable chop knives making it easy to go from chopped crop to standard.
"The integral wrapper uses film instead of net wrap, wrapping one bale while the next bale is being prepared in the chamber. If the user feels that the bale drop is too high there is an optional bale drop kit that can be attached.   As well as softening the bale's drop to the ground, this set-up allows a bale to be held on the wrapper until the next bale is also ready, then both bales will be dropped together. This reduces time spent collecting bales with a handler.
"The customer was very impressed with the machine, its ease of set-up and operation, as well as the potential time and labour savings it could offer."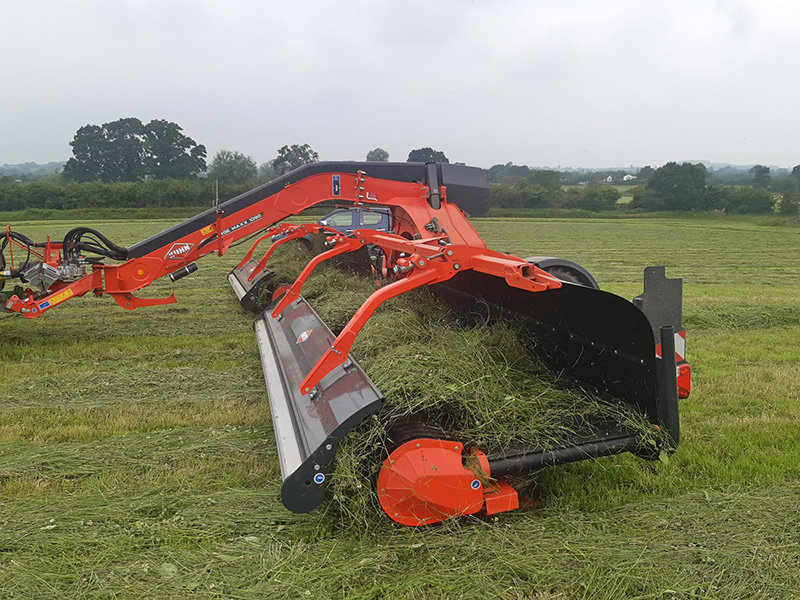 Kuhn Merge Maxx
"Brian Morris, owner of Morris Contractors in Tewkesbury, has been looking for an alternative to his 12 metre rake so we took the Kuhn Merge Maxx for him to try.
"The first thing to strike him was how much shorter and narrower it is on the road, making it much easier to transport. When we got it in the field, he couldn't believe how quick it was to switch from transport to field mode – a big plus when he has to make a lot of moves between fields.
"Once in field mode the operation is also straightforward. Working on a second cut of grass the pick-up reel was able to pick up the shortest of grass at speeds of 15kph. Being able to change the working height at the turn of a handle is a really helpful feature and Brian also liked being able to put the grass in a centre row, or even to the left or right of the machine, at the touch of a button, also being able to change the row widths from a spool valve.
"Even the forager operator commented on the consistent rows which were ideal for the feed into the forager. It also leaves the crop fluffed up, allowing the air to get through it to dry out if needed. He thought it was kinder on the grass not to push it into a row."
Want to arrange a demo for an expert critique?  Give him a call on 07887 540200, or email him, mike.quilter@thwhite.co.uk