Kuhn Primor 3570 with Cleanstraw
Effective straw shredders offer the potential of savings of up to 30% in usage rates of straw when bedding. But whether buying for the first time or upgrading, choice of machine is important, as Kuhn's James Hutchinson points out.
"Versatility should be a primary consideration, so having a machine that is capable of feeding silage as well as spreading straw for bedding could be a good way to go," he says.
"It may also be that farmers are forced into using some lesser quality material this winter, given the predicted scarcity, so a robust machine that is engineered to handle all types of fodder and straw is likely to be an advantage.
"Again, because it might be a case of buying in straw from varying sources, being able to handle both round and square bales, of all sizes, may be a consideration."
Maximising straw use efficiency does mean achieving an even spread of material and accessing the furthest reaches of the shed: "Having a machine with a good spreading range is important in order to avoid large piles in the middle of the yard that will result in wastage and areas that are not bedded," adds James. "A swivelling chute, capable of accessing both sides of the machine and reaching the corners is as important as the overall range and can be advantageous when bedding cubicles as well as straw yards."
Straw quality may be an issue, as much as volume, and where matted or mouldy material is used that can lead to problems with air quality at the time of bedding. Kuhn has addressed this potential problem with the recent launch of its Cleanstraw dust control system on the Primor straw bedding and feeding range.
Available on new equipment, or as a retrofit upgrade for existing machines, the Cleanstraw facility reduces dust in livestock buildings by applying a fine mist of water to straw as it is distributed. It comprises a 64-litre water tank and three misting nozzles mounted at the exit of the straw blowing chute. The nozzles are fed by a pump which provides water at a flow rate to apply 1 litre of water per 100kg of straw, without slowing the machine's normal performance.
Applying a mist of water at this rate and in this way eliminates excessive levels of airborne dust. Trials have shown that the air in a typical livestock building will be dust-free within 30 seconds after straw-blowing with the Cleanstraw system has ceased, compared to several minutes without the Cleanstraw facility.
"Reducing the amount of dust in livestock buildings not only creates a cleaner, more comfortable and more productive environment for cattle, but is also far better for farm workers. Apart from the health benefits of reduced dust in the air, the Cleanstraw system also allows better visibility when using a straw bedder, leading to more accurate spreading," says James.
"Adding a fine mist of water as straw exits the spreading chute means very little water is required. This not only preserves the straw's absorbency potential, ensuring it remains an effective and hygienic bedding material, but also means the speed of operation is unaffected."
The Cleanstraw system is available on Kuhn's Primor straw bedders that operate with the Polydrive hydraulically disengageable belt system that drives the feed rotor, and on the Profile Plus range of mixer wagons that have a bedding capability. The system is automatically activated when the Polydrive is engaged and can also be armed or disabled via an in-cab switch.
MyKUHN: FREE ONLINE SERVICES AND PARTS ORDERING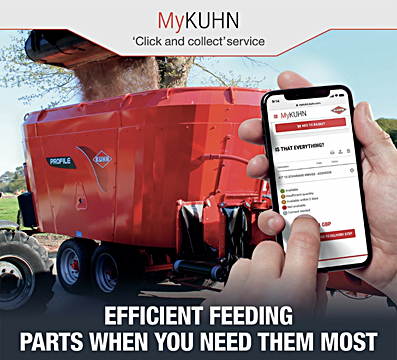 MyKUHN is an online customer portal, accessible to all owners and users of KUHN machinery. This free portal offers exclusive services to help you manage and maintain your KUHN machine fleet more easily.
Once logged in, on computer, mobile or tablet, you will be able to manage your KUHN machines by having access to parts catalogues and operator manuals in the Support area, order parts to click and collect from T H WHITE, find product and user information from the Expert area, as well as receiving updates on events and KUHN offers. It also provides an easy way to store wearing part references that you may need to order in the future. Kver
It's easy to sign up – all the details and instructions can be found at www.thwhiteagriculture.co.uk/mykuhn
Contact your T H WHITE Agriculture rep to hear more about feeding and bedding equipment. You can also request a demo of many items at www.thwhiteagriculture.co.uk/get-in-touch.