Every year, as part of our ongoing commitment to supporting farmers with the latest skills and expertise, we seek out and take on engineering apprentices in all our divisions.
One division that takes on apprentices every year is our Agricultural operation. T H WHITE agricultural apprentices work with us for four years, learning key skills associated with agricultural machinery and repair. All apprentices learn on the job in our service depots and also with blocks of learning at Reaseheath College, one of the UK's leading specialist land-based colleges which although based in Cheshire, teaches UK wide. Reaseheath has some of the best specialist facilities and resources in the country, thanks to a continuing £80 million investment across campus. This includes £8 million Advanced Engineering and Agri-Tech Centre, £6 million Sports Sciences and Performance Academy, £8 million National Centre for Horticulture, the Environment and Sustainable Technology, £7 million Food Centre and a £13 million halls of residence.
Our current year 3 apprentices have recently finished their final learning block at Reaseheath, bringing months of specialist college training to a close. There were 27 apprentices in their year group at Reaseheath, who are from a wide range of dealers based across the country, including smaller independent companies and large organisations.
To mark the end of the college term, Reaseheath presents certificates and some special awards for excelling students. Just five special awards are presented each year, and we are delighted to announce that two of our apprentices: Finn Jones and Will Hatch each received one of these special awards from the college. Reaseheath acknowledged this as a massive achievement: Two out of only five T H WHITE apprentices won two out of the five special award categories, allocated between the total group of 27 students.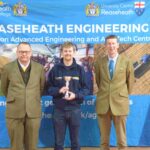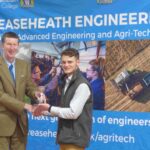 Finn won 'Best Overall Student' demonstrating excellence throughout his apprenticeship programme in all areas of 'Knowledge, Practical Skills and Behaviors'. and Will won the 'Endeavour Award' for the apprentice who demonstrated the biggest learning progression from the the start to the end of the programme, finally excelling in all areas at his course completion.
Reaseheath held their own presentation day for the students, but we would like to acknowledge the achievements made by all five of our students, including Liam Carney, Walter Perry & Jake Wain, who have all worked hard over the last 3 years and were honoured by certificates to mark successful completion of the college based part of their training.
They are now completing course work prior to taking their End Point Assessment from September onwards.
Simon Holmes, our Technical Manager said of this year's apprentices; "We are very proud of all our capable young apprentices and are delighted that the college has recognised their hard work, focus and skills. We are especially pleased that Finn and Will have won additional awards as both have been excellent apprentices, showing focus and determination. To honour the awards, T H WHITE have bought two pairs of tickets for both Finn and Will to each enjoy a day out at The Goodwood Revival historic motor race with a friend."
We are always looking for the right people to continue our valued support for Agriculture and the whole T H WHITE group. Our general apprentice programme offers specific arrangements for candidates in the fields of: Dairy; Energy, Fire and Security; Palfinger UK and more in addition to our Agricultural apprentices mentioned above.
To learn about the benefits offered by an apprenticeship with T H WHITE, find information and a wealth of opportunities on our web site here – https://www.thwhite.co.uk/apprenticeships/