Happy Retirement to Dave Houghton – A celebration of a long and fruitful career and a heartfelt goodbye from a friend.
Dave studied Agriculture at Shrewsbury Tech and began his career at Murley Agricultural Services as a mobile Agricultural Technician in the early 1980's.  He worked from the back of a Ford Escort van that he drove like a rally car!   Pictured below in 1976 he had just passed his City & Guilds Agricultural Mechanic Certificate as the only student to achieve 3 distinctions, aged 19.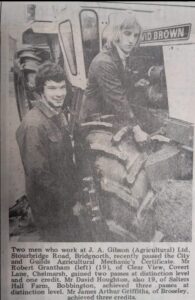 Dave honed his driving skills rallying numerous cars with varying success at his local car club, before taking on the less risky roles of course closing and organising events with his wife Jayne.  Dave followed this passion with a short sabbatical in 1989, leaving to build racing engines with a successful engine builder Roy Millington, but it wasn't long before the draw of agriculture called, and Dave was back in the Murley fold taking on a Foreman role at Stourport.
I was lucky enough to meet Dave in October 1989 as a young naive semi-skilled agricultural engineer.  I soon learnt that the more scared you looked, the faster Dave drove!  Dave coached many team members at that time and was an inspiration to all the young guys in the workshop.  He led from the front and would always help and mentor anyone who showed a similar passion to him.  But 'on-the-tools' was where he felt most at home – probably why he was soon out of the office and back in his van on the road, doing what he loved.
I remember one evening, Dave called at my house after 8pm to collect me to head out to a combine breakdown, much to my mother's bemusement. This was typical of his commitment. We headed off (flat out, of course) into the dusk to tackle a combine clutch. We rigged up a flood light and cracked on.  For Dave it was always about getting the job done and important to him to keep his customers happy.  I recall another example of his commitment to a regular customer running a New Holland FX forager that had header damage.  Parts were collected and Dave, Will and myself worked through the night to get the customer up and running. It was always about customer satisfaction for Dave, and doing his best for them.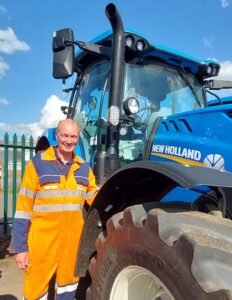 Around this time Dave purchased his Lotus Esprit, a true super car of its time. His pride and joy, Dave kept it on the road for quite a few years, keeping it running with his can-do attitude – the epitome of improvise and overcome.  At the same time he was supporting his friend Richard by building an Astra rally car from a brand-new shell to a fully competitive car.  No mean feat with Dave living in Shropshire and Richard in Scotland.
Dave is a well-respected engineer in the Worcestershire and Shropshire area among farmers.  Always trusted – if he said it needed a part, you knew that that's what was required and if a repair was going to take a while. Dave would see it through.  Of course jobs didn't always go to plan but Dave would not faulter, head down, he'd carry on, never beaten.  His tenacity, one of his greatest qualities!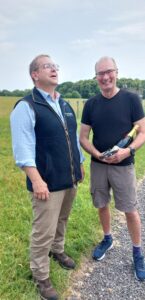 I moved to our Evesham depot in 2003 returning in December 2006 to effectively become Dave's boss.  A strange outcome for both of us but he didn't change –  it didn't matter what job I gave him, where it was or what time of day, he was always up for the challenge.  Dave was the first person I called with the news that T H WHITE were acquiring Murley Agricultural.  I remember how positive he was about the prospect of a new beginning, always looking towards the future, embracing the T H WHITE values that mirrored his own, always there with PMA and a fist bump.
Despite being the oldest man in the shop, Dave is probably the fittest. Pilates and working out with Jayne in the gym are more recent hobbies along with mountain biking with his brothers, playing on their bikes like they were teenagers again.
Dave and Jayne have been happily married for over 40 years and have two amazing children, Becky and Gregg of whom Dave is extremely proud, but very modest of their success.  Both Dave and Jane worked hard to support them through university and are always there to help fix a car or house when required.
Recently Dave and Jayne have found a new passion, a VW camper. They are regularly away enjoying the beautiful scenery that Britain has to offer, walking and exploring the countryside.  I hope now that as they embark on retirement Dave never stops having adventures, travelling the world and living a long and happy life.  After 43 years of service to Agricultural Engineering he deserves it, maybe now though, his pace won't be flat out!
Dave you'll be missed by many friends at T H WHITE.  As my colleague, my mate, and my best friend, I'll miss you most.  All the best!
By Chris Walters, Stourport Service Manager.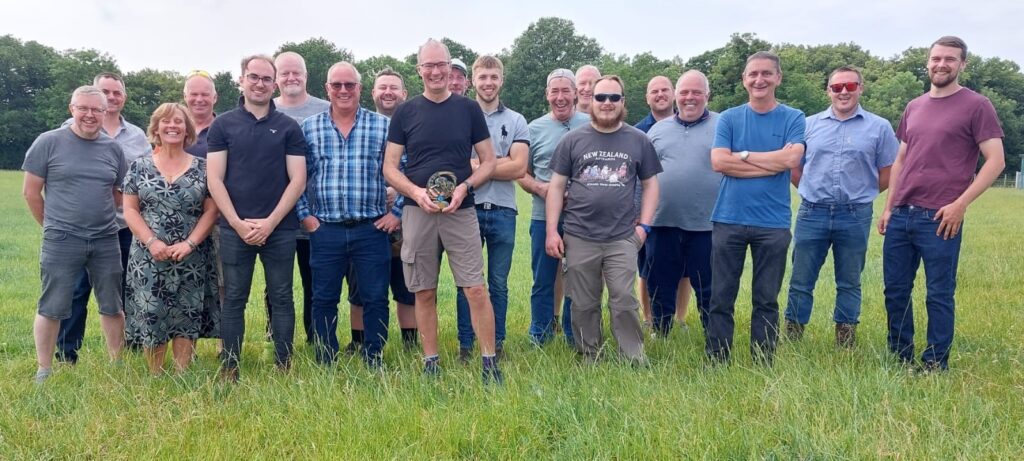 Dave holding his 'Star of the Day' trophy following a farewell shoot with colleagues.