Mecalac raised the bar for dumper design with the recent launch of its 3.5-tonne 3.5MDX which set new standards of safety, comfort, and performance. Mecalac has followed this up with all new six-tonne 6MDX and nine-tonne 9MDX models.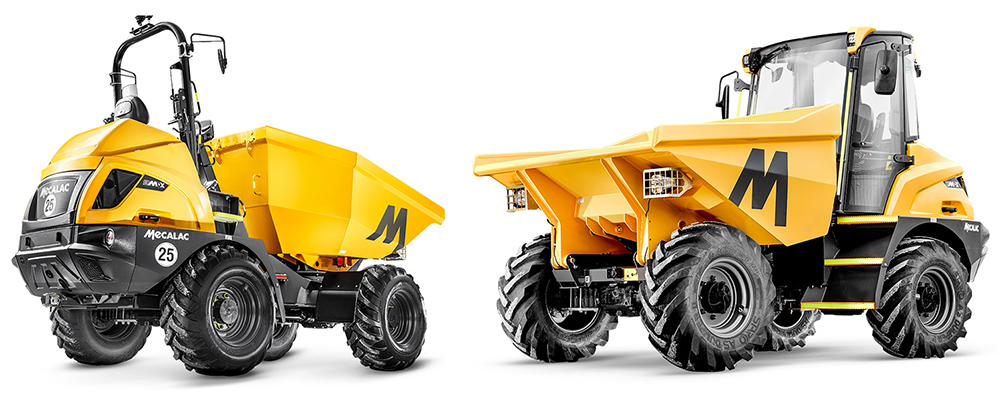 Both new models can now be specified with state-of-the-art hydrostatic transmission to replace mechanical transmission with fixed gear ratios. This ensures easier operations without gear shifting and provides the added benefit of responsive dynamic braking, making operation easier and safer for both experienced and new operators – perfect for both rental fleets and operators who frequently change their equipment. It's a particularly useful feature on steep inclines where gear changes can often result in loss of drive.
The two new dumpers are available with the option of either an integrated cab or all-new ROPS foldable roll bar which allows the machine to work in low height areas.
For additional safety and comfort, the 6MDX and 9MDX can be fitted with the unique isolated MDX cab which minimises vibration and noise, also having the strength to withstand impacts while loading the dumper skip. Take a look at the Mecalac MDX cab impact test video:
Here's a walk-around of the 6MDX site dumper to give a better understanding of the benefits associated with the new Mecalac dumper range:
To learn more, just call one of the T H WHITE specialists – Steve Clucas-Tomlinson on 07860 593339, Kevin Condon on 07966 133538 or James Bird on 07970 805985.