We have a selection of New Holland round balers in stock and on order to address your baling requirements through the season – these are the RB125 Combi Baler, the RB150 Roll Belt and 165RC Pro Belt baler.
Our specialist baler knowledge ensures we match customer applications to the right machinery so if you aren't aware of the benefits of round balers take a look at these.
The 125 Combi is a fixed chamber roll baler with the added benefit of an improved 20 knife CropCutter system™. Built for difficult and tough terrain, this model uses the tried-and-tested in-line wrapping system and adds new features for improved performance and dependability. Operators can choose between 500 mm or 750 mm film, with twin satellite arms that operate 20% faster than the previous model allowing the user to wrap faster and apply more layers with no impact on productivity.  Suitable with net or film wrap, this 2.3m wide pick-up utilising 5.5mm pick-up tines features a drop floor, rotor declutch and automatic knife retraction for a smoother bale.  With Isobus connectivity as standard, this is a great combo for seamless baling and wrapping to product better quality forage with a reduced likelihood of spoilage.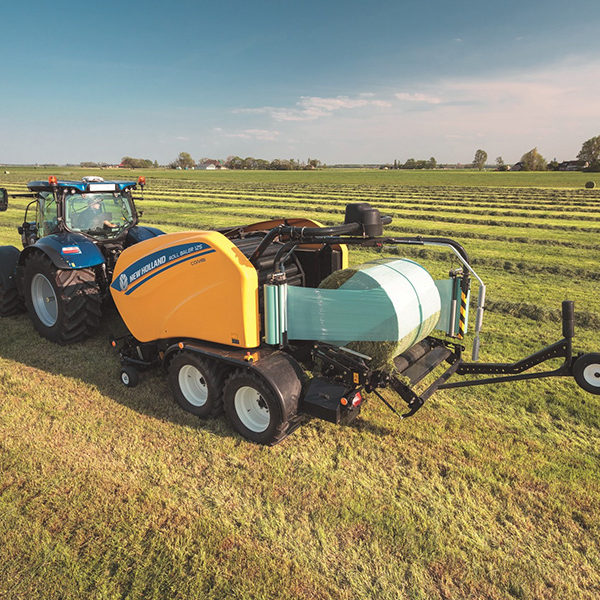 The Roll belt 150 baler is redefining round baling with advanced technology allowing operators to select a maximum bale size of up to 150 cm.  Like the 125, this model boast increased capacity thanks to the redesigned pick-up producing a uniform bale in quality and density.  Optional IntelliBale™ technology enables the baler to control the tractor's forward motion and the overall unit is easy to maintain with accessible service points.
The latest large round baler development from New Holland is the ProBelt baler series. Simplicity and durability have been the keywords in the design of the ProBelt which runs fewer chains and rollers than the previous model. T H WHITE is one of the first UK dealers to have this available and we are running a ProBelt 165 Rotorcutter demonstrator. This has a 165cm variable chamber and is fitted with a 13-knife rotorcutter unit. If you would like to see it in action for yourself, you can request a demo HERE.
The baling choices are many and our team is here to help you select the right equipment, so please talk to your T H WHITE rep. Don't forget that we also have bale wrap and twine at all T H WHITE Agricultural parts stores.