Make sure your cows are protected this summer.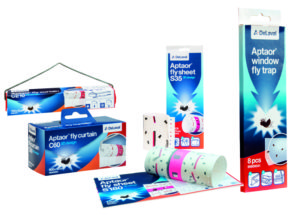 Flies are a major concern during warmer weather. They can cause a significant fall in milk yield, spreading a number of different diseases. In addition, modern methods of dairy farming often provide an ideal breeding environment for flies. Control flies with DeLaval Aptaor fly products:
• For control of flies in cattle sheds, milk rooms, piggeries and homes. Based on the latest insect research the 3D design is a combination of a unique pattern and fluorescent colours.
• Fly trap sheets can be used all year round and are effective both day and night.
• Non-poisonous fly-trap for use on windows in all types of buildings.
DeLaval's range of fly products offer environmentally friendly methods of helping reduce the instances of flying insect infestation. DeLaval glue traps are made of very strong, natural glue. The patented design of these curtains and sheets attracts flies even at dusk thanks to its 3D pattern and colours.
Contact your Van salesperson or T H WHITE Dairy rep for more details.