..And scoops a GOLD medal too as Winners in Innovation!  New Holland Agriculture previewed their radical new high capacity Combine design at Agritechnica, incorporating significant new technologies.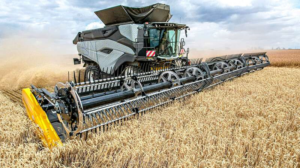 Produced at New Holland's centre of Harvesting Excellence in Zedelgem, Belgium, the new automation delivers advances in throughput, grain retention, grain protection and fuel efficiency over the current New Holland flagship combine CR range. The CR range is topped by the powerful CR10.90, which has held the world record for the tonnage of wheat harvested in eight hours – 797.656 tonnes – for almost a decade, since August 15, 2014.
Designed in anticipation of the way in which harvesting demands continue to evolve, and in response to customer feedback for greater capacity, higher performance and maximum protection of grain quality, this clever design ensures seasonal crop quality is protected and the following year's crop establishment can also take place in good time and in good conditions.
This combine harvester also highlights the New Holland Twin Rotor™ technology that revolutionised the way farmers harvest and is now part of New Holland's DNA. It's thanks to the Twin Rotor technology that the new combine can offer the lowest grain crack on the market.
A fresh new look for CR and CX
Both CR & CX combine ranges will now be instantly identifiable, thanks to new 'Inspired by Nature' panel styling and decals.
A collaboration between Industrial Design and Engineering teams, together with brand and product specialists resulted in an iconic and stylish refresh of timeless design – it really is form following function.
The flow of the harvest is underlined on the exterior body panels by the dynamic blue feature that runs across the body through the various operational functions. The new look gives both ranges a similar family appearance to other machine types across New Holland's farm equipment product range.
The host of New Holland CR Twin Rotor combine updates include:
Upgraded seating, with a new leather-upholstered ventilated unit providing more support, plus cooling and heating.
A new DAB+ radio providing access to a wider range of stations.
Electronic remotely-foldable new right hand rear-view mirror for improved safety.
Up to three cameras viewable on the in-cab terminal, which can be factory-installed in different locations on the machine
Flotation, traction and transport benefits of tracks now available on the CR7.90 model which can be specified with 24in-wide heavy-duty belts on SmartTrax units incorporating flex technology and automatic continuous tensioning
New options for the front axle of fully-wheeled CR combines include VF (very high flexion) 620/70 R42 dual wheels/tyres and LSW (low sidewall technology) 1250/35 R46 wide flotation units for maximum spread of weight.
Dynamic Flow Control™ function extended to CR7.80, CR7.90 & CR 8.80 combines allowing the positions of the vanes on the two rotors to be altered and boosted on the go (now working with IntelliSense)
CR combines gain precision technology with extended IntelliSense automated combine management technology which optimises the machine's threshing, separation, and cleaning shoe settings according to the operator inputs.
Extended featured settings beyond wheat, oilseed rape/canola, maize/corn and soybeans, now include oats and sorghum/millet/milo, allowing those harvesting these crops to benefit from the same potential productivity gains.
IntelliSense is standard on CR9.90 and CR10.90 combines, and optional on other CR models.
Factory-fitted NutriSense™, the SIMA award-winning near infrared analysis technology supplied with a three or five year subscription. Able to constantly analyse crop nutritients (protein, starch and oil contents plus moisture) and map valuable yield and soil sampling pictures to allow farmers to make harvesting, storage and marketing decisions as well as forward-plan strategies such as varying nitrogen applications the following year according to areas of the field producing higher/lower protein grain.
PLM advancements:
Introduction of PLM Intelligence on the CR combine range; a new IntelliView 12 touchscreen terminal with higher resolution and brighter, reduced-glare display.
A full operator's manual with search functions and remote screen viewing can be accessed with Grain Cam images and improved 3D mapping.
Remote wireless software updates
Remote Service tool allowing users to create and share screenshots.
IntelliSteer option featuring top end guidance performance combined with maximum setting possibilities. IntelliField™ allows A-B lines and coverage maps to be shared.
And finally Agritechnica also saw the innovative new weed control management feature for CR combines previewed, with 559mm (22in) rotors (CR8.90/9.90). Developed by Australian firm Seed Terminator, the unit of the same name uses multi-stage hammer mills to pulverise weed seeds along with the chaff to eliminate their ability to germinate when reaching the ground, helping users reduce weed burdens in the following crop.
Talk to us today to learn more or discuss your harvesting needs for 2024 here.