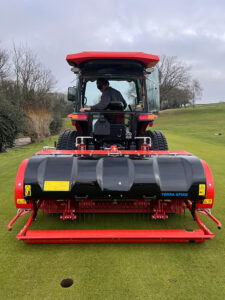 Keeping the greens at Bath Golf Club in immaculate condition is a round-the-clock job for Course Manager, Tom Hayward. And for the past two years, this job has been made much easier, thanks to the introduction of a Wiedenmann GXi8 HD Terra Spike 'Fast Greens' aerator.
Purchasing the Terra Spike was a simple decision for Tom – primarily because he'd used a GXi8 model whist working at previous clubs, along with other competitor models – so was well-aware of the advantages the Wiedenmann had to offer. Combined with some additional research into the market and word-of-mouth advice from his peers, he contacted T H WHITE Groundcare to secure a deal.
Taking delivery of the unit in January 2022, Tom has since seen a marked improvement in the quality and playing performance of the greens. 'Having used Terra Spikes previously, it's no surprise we're now seeing superior results, and in a much smaller time-frame,' Tom explains. 'It's a fantastic piece of kit, covering more square metres per hour than any other aerator I know, exactly what you'd expect from the market leaders – super-reliable, simple to adjust and easy to maintain.'
The unit is deployed across the greens approximately 4 to 6 times a year, typically for 10 hours at a time. 'We'd like to get it out a bit more, but the course is always so busy!' Tom comments. 'It's currently on draining duty, which will continue over the Winter months. We like to vary the aeration, and we're easily able to change the tine diameters from 8mm to 10mm and then up to 12mm to achieve this. We currently penetrate to a depth of 5 to 7 inches, but we're gradually introducing greater depths into our greens,' he adds.
So after two years of high-performing service from the Terra Spike, Tom is now looking to broaden the collection of Wiedenmann equipment in his shed: 'I'd love to have other products from the Wiedenmann range at my disposal and build on the momentum we've created with the GXi8, so I'll be keeping a close eye on my options going into next year.'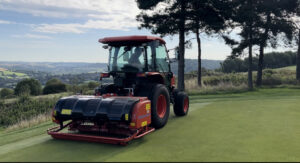 Good call Tom – we'll wait to see which Wiedenmann product tops the Bath Golf Club leaderboard in 2024!
Contact Stuart Fry at the T H WHITE Groundcare team on 07774 212926 or your local sales rep for more info on Wiedenmann's high-quality range of turfcare equipment.