Wiedenmann goes big and bold for Saltex.
Whether you are de-compacting an overused pitch or hollow coring a surface, Wiedenmann has the perfect tool to support you. With 11 separate deep aerators; from the super light SL (210 mm) to the extra deep XP (400 mm) and everything in between, year-round Super 500 and Super 600 sweeper collectors that can flail mow, fraise mow, sweep and scarify and have a 2.1m high dump into trailers and even quick and efficient leaf sweeping and collecting with debris vacuum packed into tanks of 2500 and 4500 litres, you can be sure to find a tool in the range to suit.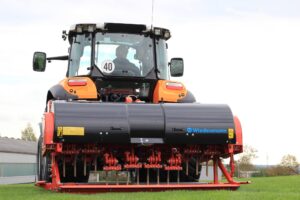 For Saltex 23, the German manufacturer highlighted the 2.1 m Terra Spike XD8, with deep aerator combines and a working depth up to 27.5 cm. This machine brings a host of class leading H&S initiatives, like shock absorbing and anti-vibration mechanisms. Favoured by contractors for its wide working width with an easily transportable size, it remains incredibly neat and smooth.
Even wider is the 3.5 m bat wing Terra Rake for scarifying, thatch removal and soil conditioning. Twice as big as the ever popular 1.7 m rake, it doubles output and width instantly while keeping labour costs down. Thanks to a clever frame operated hydraulically from the cab, it folds easily to a transportable size.
Then there's the aptly named Super 500 which scarifies, fraise mows, flail mows, verticuts, sweeps and collects into a generous 2500 litre tank. It's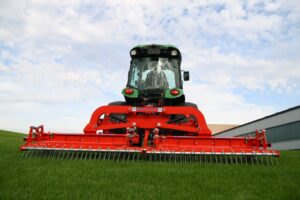 got Wiedenmann versatility written all over as it's happy to work at heights up to 2.1 m and beavers away even in frosty conditions, vacuum packing its load.
Making a special appearance on the Saltex stand was the Terra Spike's sister product, the Groundpro Maredo MT200 series, and in particular the flex verticutter. While not supersize, this machine is definitely superfast, and focuses on the all too common problem of endemic thatch in lawns. Controlling thatch is key as too much organic matter can be a problem for ongoing maintenance. The Groundpro Maredo series removes thatch cleanly at a good speed with three independent floating heads and for maneuverability, an 'A' frame with pivot point that makes turning corners simple, which helps to keep jobs progressing at a pace, and ensures that every working second counts.
These larger machines on show at Saltex highlight just how versatile and useful Wiedemann's range can be for contractors and grounds people.
Contact us here to us to get more information on the Wiedemann range.