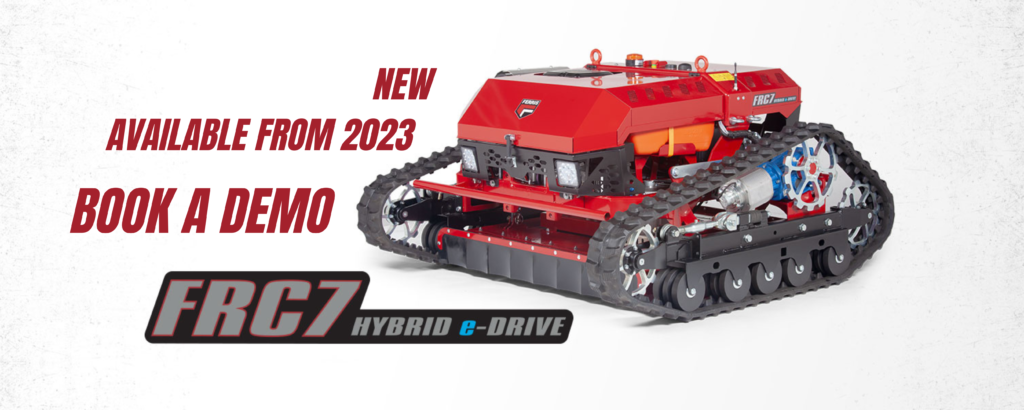 Ferris FRC7 Remote Controlled Mower
The new Ferris FRC7 remote controlled mower ticks all the boxes and greatly improves the operator's ease and comfort of maintaining urban and hard to reach green spaces, with less physical strain, no exposure to vibrations and an overall safer operation.
Remote Control
The Ferris FRC7 remote control allows the mower to be operated from a distance of up to 300m reducing the risk, physical effort and exposure to vibration, noise and emissions. The FRC7's tracked low-gravity undercarriage ensures stability on steep inclines up to 55° and provides superior traction, whilst also allowing for forwards and backwards mowing, making turning on a slope unnecessary, and preventing potential damage to the underlying soil.
True Hybrid Drive System
The FRC7 has a 48V DC drive system that provides power to the blades and to the tracks and can operate over a distance of up to 200m on battery power alone and without having to start the engine. Both the tracks and mower deck are electrically driven by a hybrid e-drive system that combines a combustion engine with a battery drive system, resulting in a highly effective powertrain, and load sensing ability which keeps the mower deck performing optimally and automatically adjusts the mowing speed when conditions get tougher.
Book a Demo
For more information about the Ferris FRC7 Remote Controlled Slope Mower or any other model in the Ferris range please contact us or visit our website www.ferrismowers.co.uk/ to book a demonstration