Innovative Cabbed Dumpers From Mecalac
Innovation sits at the heart of every Mecalac machine – and innovation is one thing the MDX range of cabbed dumpers have an abundance of.
The Mecalac MDX cabbed dumpers centre around operator safety. Designed from the ground up to set safety standards in performance, safety and comfort, the innovative models offer numerous benefits.  Fully enclosed certified ROPS/ FOPS MDX Cabs prioritise the highest level of operator comfort by minimising vibration and noise, ergonomic controls and high adjustable seat.
Front and rear LED worklights come as standard, and the class leading visibility from the large curved glazed cab provides safer access to the cab thanks to high visibility and easy to reach self-cleaning steps and hand rails. Easily accessible service points are also a feature reached from ground level.  The Mecalac MDX dumpers are available as forward tip or swivel skip with Synchro-Shuttle or hydrostatic 4WD for excellent handling on site.
The Mecalac 3.5MDX Cabbed Dumper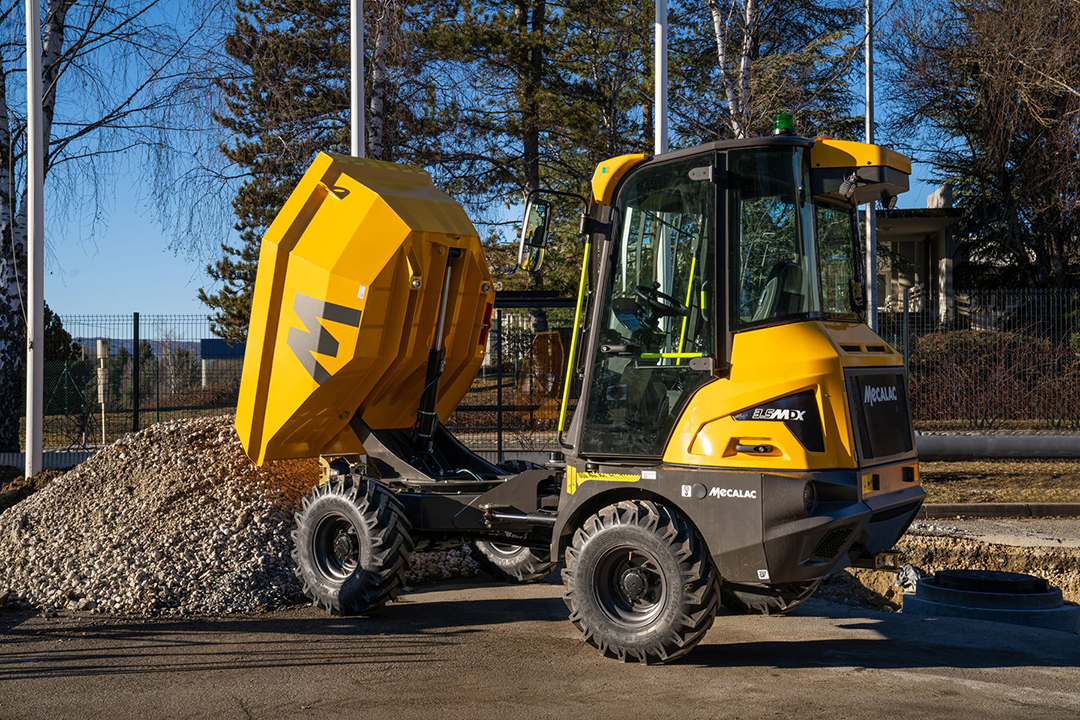 The more recently launched 3.5 ton cabbed dumper from Mecalac is the smallest of the MDX range. The 3.5MDX combines style with the 'rental tough' build quality that Mecalac construction equipment is renowned for.
The compact cabbed dumper boasts a Stage V compliant Kubota engine which provides 50HP (37kW) of power. It's compact dimensions make it super manoeuvrable and ideal for construction sites where space is limited.
Operating Weight 2990kg
Width 1.9m
Height 2.8m
Payload 3.5 ton
The Mecalac 6MDX Cabbed Dumper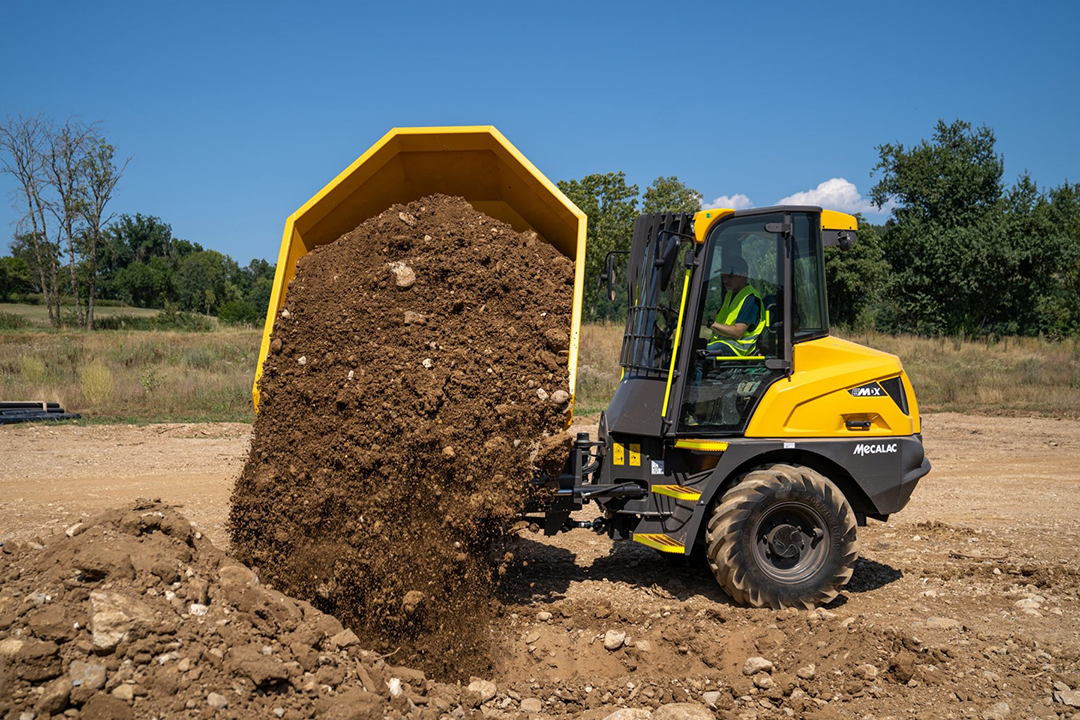 With the same fully enclosed cab, and either forward tip skip or swivel tip skip, this model and the 9 MDX provide dual side cabin access, an optional screen guard, ISO compliant front camera as standard with optional rear camera and 4 speed synchro shuttle transmission (optional upgrade to hydrostatic).
Operating Weight from 4460 kg – 4960 kg
Width 2.3m
Height 2.9m
Payload 6 ton
Permanent 4 WD
The Mecalac 9MDX Cabbed Dumper
Operating Weight from 5055 kg – 5795 kg
Width 2.3m
Height 3.3m
Payload 9 ton
Both the 6 & 9 MDX models can now be specified with state-of-the-art hydrostatic transmission to replace mechanical transmission with fixed gear ratios. This ensures easier operations without gear shifting and provides the added benefit of responsive dynamic braking, making operation easier and safer for both experienced and new operators – perfect for both rental fleets and operators who frequently change their equipment. It's a particularly useful feature on steep inclines where gear changes can often result in loss of drive.
Mecalac Shield – Safety as Standard
For additional safety, the 3.5MDX features Shield – Mecalac's package of safety-critical operator features – as standard. Key technologies include start & drive interlock, handbrake warning, digital speedometer, fuel loss warning sensor, automatic idle shut-off, park brake test and Stop-Start Control™.  Each model can also be fitted with a unique isolated MDX cab which minimises vibration and noise, also having the strength to withstand impacts while loading the dumper skip.
Get in touch on 01672 512328 or email to find out more about our Mecalac range and discuss your requirements
Safety as Standard