Said Mabrouk has been in post as a Dairy Engineer with T H WHITE Dairy in Frome for almost two months now – and is loving every minute of it.
Already, he's found himself busy with multiple projects ranging from the design of heat recovery and refrigeration systems through to installations, service breakdowns and site visits. He is slotting into his new team environment nicely it seems, complementing the skills already present in the team with his broad-based M&E experience in commercial refrigeration and air conditioning.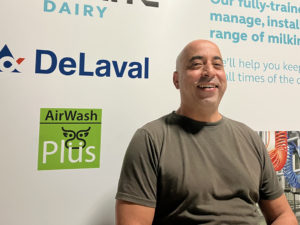 "I'm a team player that likes to problem-solve," he says. "I'm currently working closely with my colleagues, making up a team of three. We all like to share ideas and pool our knowledge, so this is the ideal way to start my new role. I'm looking forward to undergoing more company training over the coming weeks, and learning about our customers needs in more detail."
Before life at T H WHITE, Said was self-employed for 15 years, working on a variety of commercial refrigeration projects. Prior to that, he studied at Bath College, gaining several qualifications in M&E and H&S.
Said lives in Filton, Bristol with his wife, daughter and pet cat. In his spare time, he likes to keep fit by going to the gym as well as swimming whenever he can – all fitted around regular shopping trips with his daughter!
A very warm welcome to T H WHITE, Said.
To get in touch with Said about your dairy engineering requirements you can reach him on 01373 465941 or email said.mabrouk@thwhite.co.uk