Just 19 examples of Manitou's limited edition NewAg telehandlers will be coming to the UK, out of only 133 being distributed worldwide. And ONE will be coming to T H WHITE!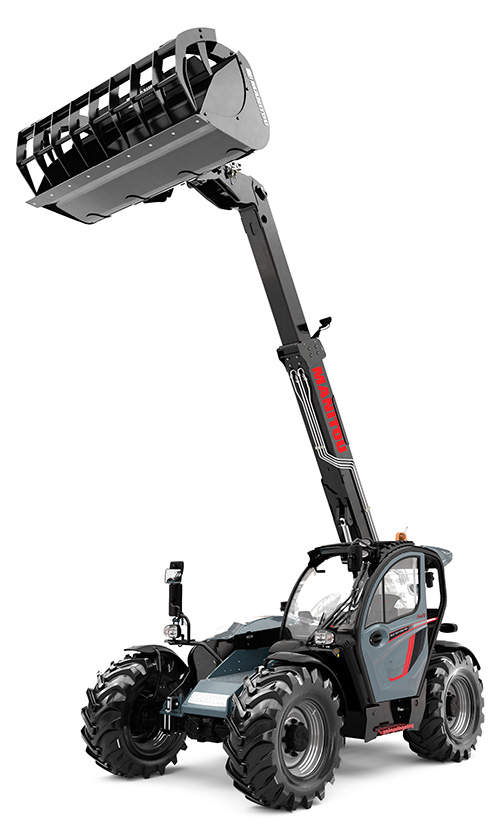 This very special MLT 737-130 PS+ not only features a dynamic finish in 'volcano' grey, red and black, but is also one of the best equipped agricultural telehandlers on the market. Inside, it's all about comfort. A leather low frequency suspension seat provides outstanding comfort, virtually eliminating vibrations to protect the operator's back. The steering wheel and armrest are also trimmed in leather, giving the interior of the cabin a luxurious feel. Two SafeView cameras on the right and rear of the machine offer enhanced security and more convenience for the operator. Other cabin equipment includes a USB bluetooth car radio with microphone (100W) and a 'Vision' screen for the enhanced display of dashboard information. Comfort is matched by performance. Active CRC boom suspension absorbs shocks when transporting a load, at the same time protecting the structural components of the boom. Hydraulic locking of attachments saves time for the operator. LED work lights are installed in the cabin, and the work lights on the boom and main beam headlights are also LED.
Representing 15% to 30% of total use time, idling speed costs the user approximately £9 per hour. This estimate takes into account the three main components of TCO, namely fuel consumption, machine depreciation, and maintenance. To limit these costs, Manitou has equipped this limited edition with 'Ecostop' which automatically stops the engine and the associated hour meter when the machine is idling with no operator in the cabin. Manitou's range of services are available on this connected model, including extended warranties, maintenance contracts, and financing solutions. The chance to acquire this distinctive Manitou really is a one-off, so if you are interested is standing out from the crowd we advise you to contact your T H WHITE rep straight away. Once it's gone, it's gone, and there will be no more like it.