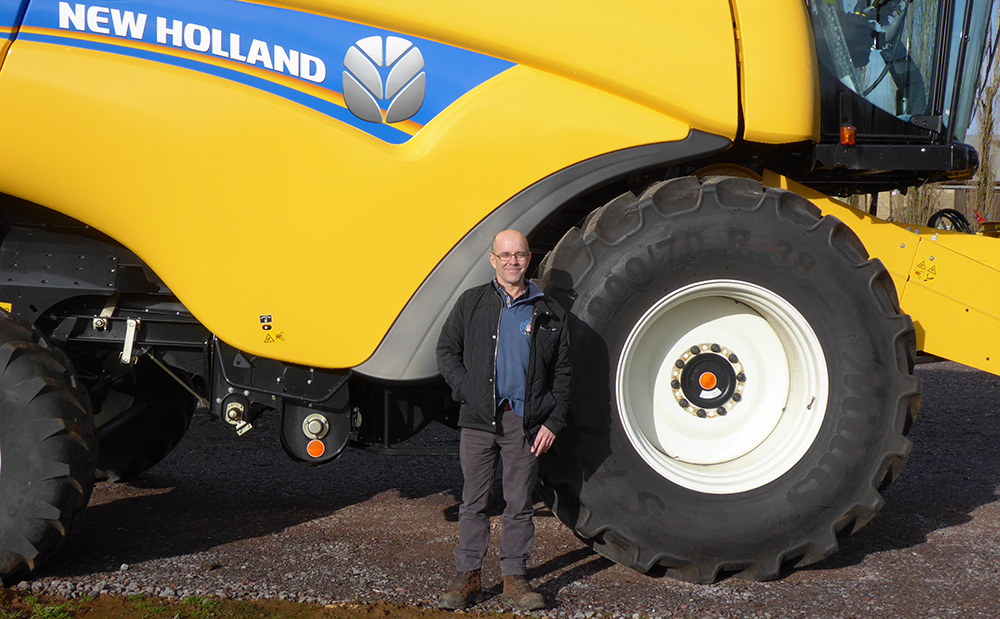 "These days you can just plug a laptop into a combine to see a full set of diagnostics," says Alastair Grierson, newly-appointed Service Manager at T H WHITE's Knockdown branch. "While that can help in detecting a problem it can also send you on a false trail, so in order to determine what's really going on, you need to combine new technology with sound experience and a thorough working knowledge of the machinery. Sadly that's often lacking in many workshops today."
'Can-do', and 'do it right' are phrases that best sum up Alastair Grierson's approach to his responsibilities at Knockdown and he is keen to impart these values to his workshop team, who appreciate his dry sense of humour – usually! – and often refer to his encyclopaedic knowledge.
Having worked in the Knockdown workshop for 17 years, Alastair has, as you might expect, acquired a tremendous depth of technical knowledge and experience and fully understands the exacting service levels farming customers require. Early in his career, he drove self-propelled foragers for Roberts Contractors of Malmesbury, so came to T H WHITE in 2002 as something of a harvest machinery specialist, but over his years as a Senior Technician and Workshop Foreman he has seen it all. If there's anything Alastair doesn't know about agricultural machinery, it's probably not worth knowing.
The seeds of his passion were sown as a child on the family farm at Hankerton and in 1984 he went on to study agriculture at Lackham College where he achieved the 'Best all-round Student' award. Then, with a friend he met at Lackham, Alastair travelled to Australia working on combines during the 1988 harvest. "That's what really fired my interest in big harvesting machinery," he says. "Keeping those machines running on the vast farms around Perth was certainly a challenge!"
Outside work Alastair is a dedicated family man. "I have quite a menagerie: two dogs, two ponies, two daughters and, oh yes, a wife! The two girls are now aged 9 and 12 and the eldest has already decided she would like to be a vet, but both are rooted in the countryside and take part in local hunt activities." Alastair himself has been known to play the odd bit of rugby, hockey and squash and is also keen on shooting, although all that has had to take a back seat due to his new job and busy family life.
The day Alastair was appointed Service Manager – Tuesday 5 January – was also the first day of the third national lockdown. "The last year has been tough with some of our staff having to self-isolate, but farming has to go on. The local farmers have been very understanding but we have also pulled out all the stops to give them the best possible service to keep everything running regardless of the pandemic."
T H WHITE Agriculture Division Director David Rapkins congratulated Alastair on his appointment: "It's an exciting, albeit challenging time, for Alastair to be taking charge of the service team at Knockdown.  We are particularly pleased to have been able to recruit from within the business and our management team are on hand to support him in implementing his culture and vision for the team.  I'd like to thank two of our key customers who participated in the selection panel to ensure that we chose a person with the right skills needed to deliver the high standards we were seeking.  We all wish Alastair the success he deserves. "
Many of our Knockdown customers will already know Alastair from their interactions with T H WHITE. Whether you have done business with Alastair or not, you can be sure of a warm welcome as well as knowing that you are dealing with one of the most experienced people in the business.