One of the great things about taking machinery on-farm to give demonstrations is that you can see what the kit actually does, rather than just taking the manufacturer's word for it. As a result of hands-on experience of machines from all our suppliers, our chief Demonstrator Mike Quilter has built up an extensive knowledge.
In each issue of White's World Digital he'll be telling us about some of the latest items he has taken out on demo, what they were asked to do and in what season. For all the details of how they performed and what he liked – or didn't like – about them, read on…
Autumn cultivation with a Sky Agriculture EasyDrill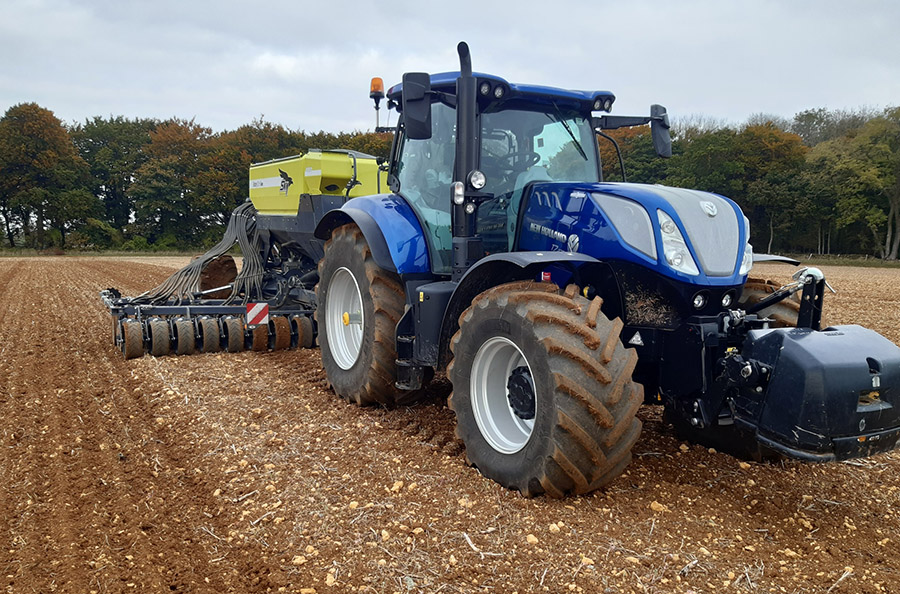 This pneumatic trailed direct drill is quite remarkable, being equally suited to arable conditions and grassland. The EasyDrill is also one of very few direct drills that can truly be advocated as a direct, a mintill, a grassland and a cover crop drill.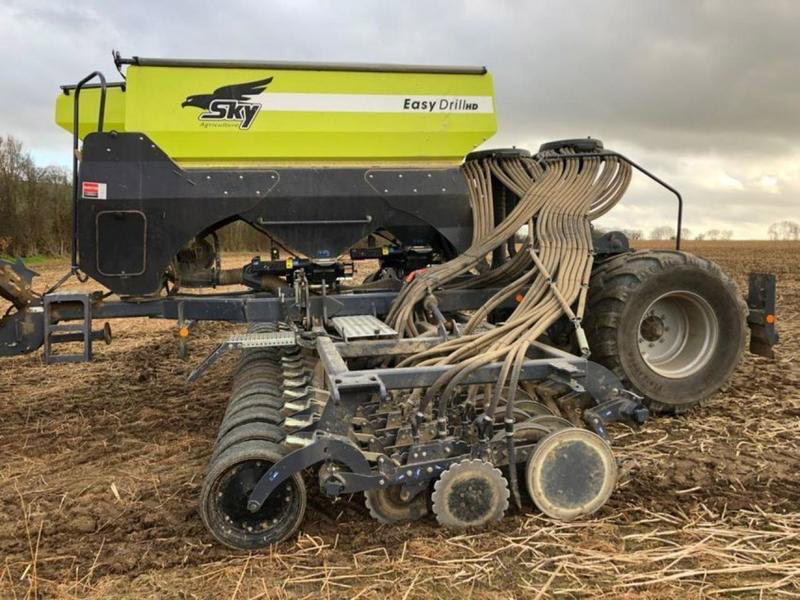 We took it to a farm on north Cotswold brash to plant winter wheat after a season that had been patchy with rain on and off. The weather conditions had left few windows for getting good ground conditions for planting.  Although the 6m Sky Drill is a direct drill, we planted into cultivated ground which was left as loose, fluffy, brashy soil. Pulling the drill at 10-12 kph it coped very well.
I particularly liked the smooth pull and impressive breakage of the Sky Drill. There really are no negatives with this machine
In the spring we'll be using the new Opico Interrow hoe to eliminate weeds rather than spraying, Watch this space…"
Winter with the Kuhn Primor Feeder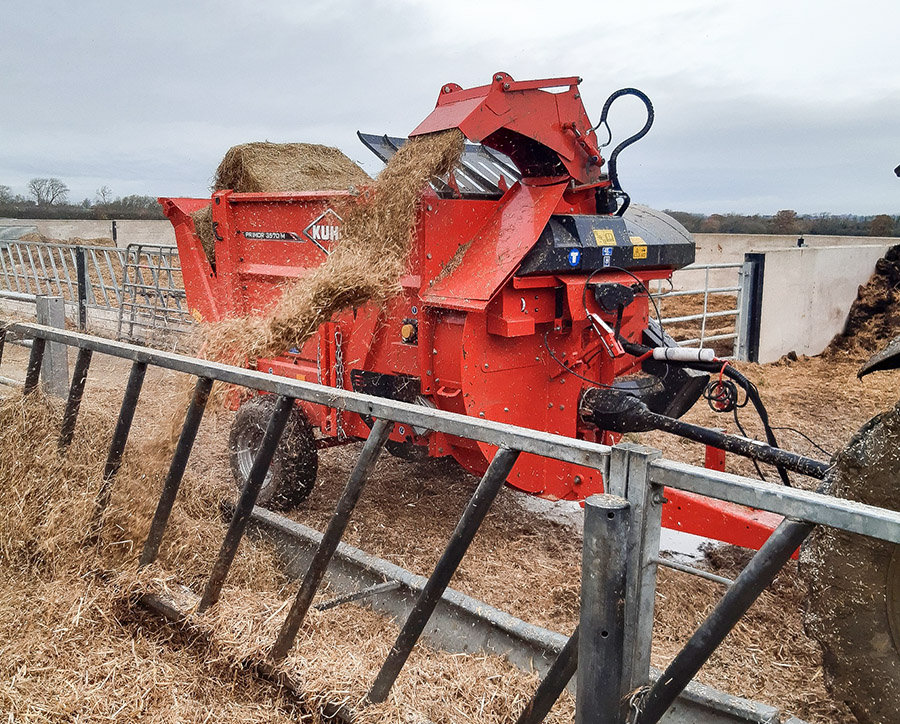 With animals inside during the cold months, we went to see a customer with a mixed farm in north Gloucestershire who was planning to change his old feeder for something more efficient. 
I took the latest Kuhn Primor feeder and attached it to his small 90hp tractor, which handled the feeder very well. Starting off with straw 120×70 bale and then moving onto 120×130 bale, the feeder handled the bales well – although it was a snug fit with the 120×130 bale. The customer was pleased with the blower strength and how it blew to the back of the yards.
We then moved onto a non-chopped silage bale which the feeder handled very well, offering the ability to feed straight into the feed troughs, this eliminated bale waste as the customer normally puts bales in ring feeders.
The outcome? Well, the operator was very impressed with the machine, mainly with the way it handled non-chopped bale silage which his present machine will not do. He thought it took less horsepower to operate and was a quicker machine. A bonus was the Primor's ability to blow straw to the other side of the yards. 
On the other hand, a small gripe was that it was a tight fit to get Heston bales in the machine – his old machine was wider. He was worried that he could bend something quite easily while squeezing Heston bales in. Operation and use of controls was easy but you could not disconnect the control box – not so good when unhitched out in the open. 
Overall the customer was very impressed with the machine. It's just a pity it struggled with loading Heston bales."
Year-round benefits with the New Holland T5.140 DCT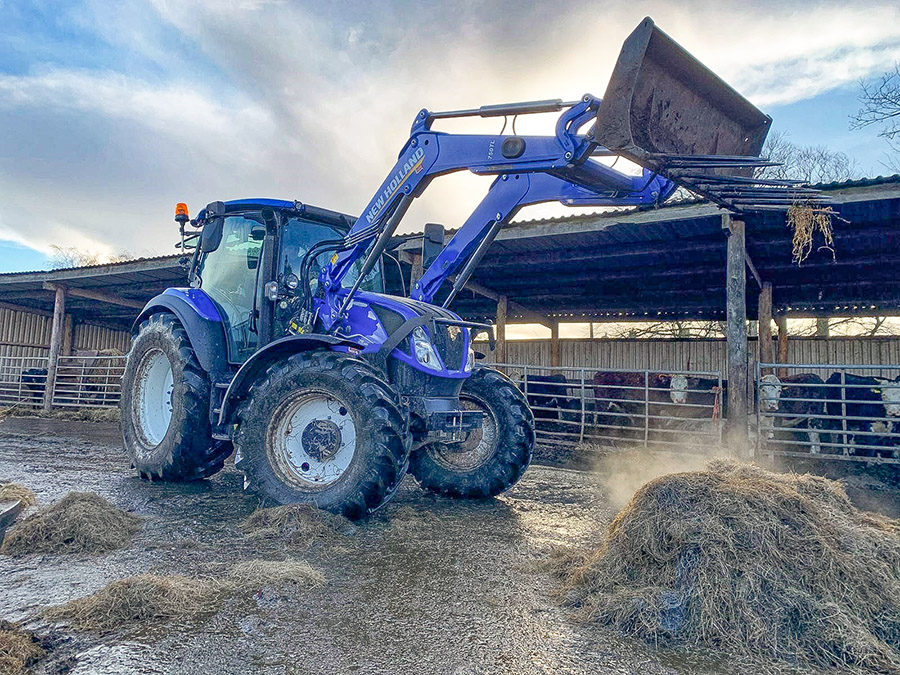 The New Holland T5 Dynamic Command is one of the most innovative tractors of recent years, featuring a new 8-step semi-powershift transmission, making it ideal for loader work. 
I took a T5.140 DC fitted with a loader to our customer who was immediately surprised at how compact it is considering the high horsepower. It's very stable when moving heavy bales around the yard as well as being nippy for yard work. 
He loved the Auto function in the gearbox when loading and unloading and when trying it for road work he said he could hardly feel the gearchange and range change. This is because of the gear overlap in range changes, meaning that even when towing heavy loads it has a smooth gearchange. There was no momentum loss when changing gears either, no matter what the load.  
Overall this is a good all-round tractor with excellent visibility, nice operator controls and a very comfortable cabin with well-thought-out controls – especially the built-in loader joystick.
If you would like to arrange a demo of any similar items or other agricultural machinery from T H WHITE, call Mike Quilter on 07887 450200, or use the online form at www.thwhiteagriculture.co.uk/get-in-touch
For details of machines available in our 2021 demo fleet, please visit www.thwhite.co.uk/whites-world/nh-2021-demo-fleet