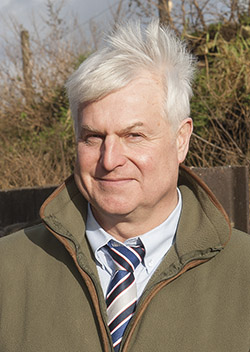 T H WHITE Head of Dairy NIGEL ELLIS, reflects on developments in dairying, profiling some of the installations carried out in 2019 and introducing key members of the T H WHITE Dairy team…
In the two years since Nigel Ellis took over as Head of T H WHITE Dairy the milk price in the UK has remained volatile. Nevertheless, dairy farmers have continued to invest strongly in their businesses and Nigel is determined to offer customers the best service in the market.
"There are many dealers out there competing to sell equipment and parlour installations, but at T H WHITE we believe that farmers need far more than that from their supplier," says Nigel. "Our whole approach is based on long-term relationships, working with the farmer from the outset to ensure that what he is purchasing is right for the demands of his business, designing the installation to operate in the most efficient way, coordinating the build and installation and then making sure everything works as planned.
"Beyond that we will deliver servicing regimes appropriate to the equipment to keep everything running smoothly, and if something does go wrong we are on call 24/7 to get your dairy back in action as fast as possible."
To sustain this promise T H WHITE has not only increased the numbers working in the dairy service department but has been instrumental in designing training packages to bridge the skills gap in the Dairy sector and entice newcomers to its sophisticated technology (more about this next month). Investment has also been made in the latest DeLaval VPR 200 diagnostic system which enables the technician to scan all the components of a dairy installation and instantly review which are functioning at their best and which may require servicing or other attention.
"Our Dairy Van service is an added benefit too, maintaining regular contact with our Dairy customers and keeping them supplied with consumables and new products that can help their businesses."
Nigel's view of the road ahead is clear: "The key to the future success of the dairy industry undoubtedly lies in new technology. Milk prices are unlikely to rise sharply and labour is increasingly harder to secure, so the best way to survive and expand is through efficiency, volume and automation. 
"Some of the best solutions today are available from our dairy partner DeLaval. You will read in this special Dairy edition of White's World how traditional twice-a-day milking can be increased to three milkings through the use of robotic milking stations. At the same time monitoring and analysis systems such as Herd Navigator™ can make a remarkable difference in the control of mastitis or the detection of fertility. All the data collected from each cow can also be processed by the DeLaval DelPro™ application and presented as accurate and clear information leading to better health in the herd and helping farmers to make informed decisions for greater profitability.
"For larger dairy farms we have seen the development of refined rotary milking systems. The DeLaval E100 and E300 rotary models show the way with their ability to handle large herds at each milking, all in speed and comfort for the animals."
Augmenting the technology coming from DeLaval, T H WHITE also offers the unique AirWash Plus automatic dip and rinse system – the only one compatible with any cluster and any liner.
"It all adds up to a proposition that enable us to fulfil our purpose of helping customers to get the best from innovation and technology for generations," Nigel concludes.
We hope that you will find much of interest in the Dairy pages of this special issue. If you would like to know more about any of the technologies and solutions featured here, our dairy specialists are ready to help. Just call the Dairy team on 01373 465941 (Frome), or 01452 830303 (Huntley).
If you prefer, you can contact Nigel on 07860 247367 or email nigel.ellis@thwhite.co.uk.