We are thrilled to announce that – Justin Moore – has joined the ranks of 'Master Technician' status in New Holland's combine class.  Justin is our first New Holland Combine Master Technician at T H WHITE and received his certificate from George Fairbairn, New Holland Product Support Specialist at the recent  New Holland combine update course in New Holland's training centre, in Basildon.
Justin joined us in July 1999 as a work placement of his middle year at Lackham College, where he was studying a three year Agricultural Technician Course.  Clearly through loving his placement year rather than the fear of being pranked by colleagues on his departure with a Marlborough river-dip, he stayed at T H WHITE and joined our apprenticeship scheme.
As part of his four year Apprenticeship. Justin was trained by the long serving and experienced members of the then Marlborough team, Maurice Smith, Roy Breakspear and Ray Wotton, to gain their vast knowledge of the wide array of equipment passing through the workshop.  On completion of his apprenticeship, he moved on to specialise in New Holland harvester products, Vaderstad drills and cultivation equipment, Hardi and Chafer sprayers as well as the full range of Kuhn agricultural equipment.  During this progression, Justin trained and mentored a number of apprentices passing on his valuable knowledge to invest in the next generation of technicians.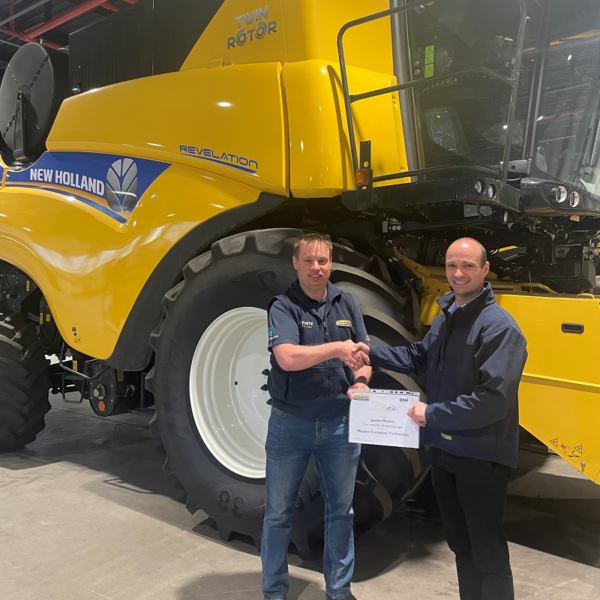 In his spare time Justin enjoys spending time with his fiancé Megan and their two children, following Liverpool Football Club and his other great passion is owning and showing classic and vintage Ford and county tractors, a hobby he shares with his father.  Justin is one of the principal organisers of 'The Big Ford Working Day'; an annual event held near Devizes.  He and his Marlborough colleagues play a part in putting the event together, which has raised thousands of pounds over the last few years for various local charities.
Since arriving at T H WHITE Justin has undertaken an extensive New Holland training programme to increase his technical knowledge and expertise alongside on-the-job practical applications of his skills.  This knowledge will ensure Justin continues to be a leading technician in his field, an asset to our technician teams and a forerunner in delivering first class service across innovative farming products.
Well done Justin, this is very well deserved!