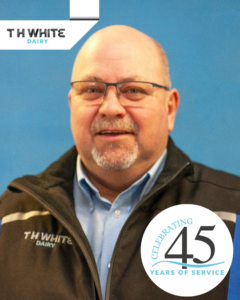 Paul Derrick, from our Dairy sales team at Frome, has celebrated his 45-year milestone of continuous service with T H WHITE.
After finding a keen interest in farming when helping a local farmer as a young boy, Paul joined our agricultural workshop back in 1977, advancing to being a qualified technician by taking advantage of every opportunity that came his way to learn the ins and outs of New Holland, Kuhn, Opico, Manitou and more…
After 19 years in the workshop, Paul took up a fresh challenge in Dairy van sales, visiting half a dozen farmers a day with supplies and talking about all-important upgrades and refurbishments. Whilst on the farms, Paul was excited by the way technological improvements were freeing-up farm labour, allowing a stronger focus on the husbandry side of animal welfare. Inspired by this interest, he later took the role of workshop foreman before moving to be Dairy capital sales specialist in 2001, supplying both robotic VMS solutions and conventional systems, relishing a new challenge every day whilst also still supporting the Dairy van sales team.
Paul is a great brand ambassador for T H WHITE. Fuelled by his enthusiasm and pride for all things Dairy, he has become a highly valued member of the team with his commitment to the division and ease in building rapport and trust amongst his customers.
We are sure that colleagues and customers will come together in congratulating Paul on his long service, upholding the values that make T H WHITE proud to have such people in their service.