There's a lot to consider when choosing a new tractor and farmers who run businesses usually view this investment as a tool to increase productivity. But are we missing something?
Do we consider everything when looking at a new tractor? Do we think enough about our own comfort? In short –  do we pay enough attention to the cab?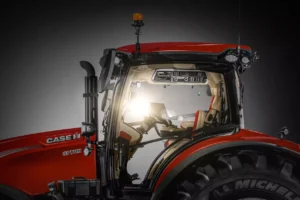 The interior of the cab is a place we'll occupy for many hours. Some of us will be well aware of the negative impact of a less than comfortable operator's environment – especially after 18 hours in the seat!
The operator's environment is also the place where we interact with the tractor, guiding the machine while setting it up and using it, so display units and control panels will have an impact on our productivity and enjoyment of each working day.
With all that in mind, does it make sense to look more closely at the cab? Case IH has a history of focusing on this key area of interaction with their tractors, and has spent time and effort to create a stylish and productive environment for operators to occupy.
The Optum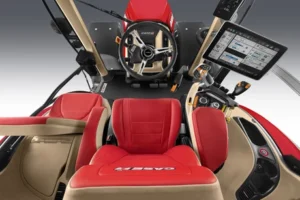 An innovative cab powered by advanced solutions: the new Optum range offers an enhanced level of comfort and smart design with the brand new Optum AFS Connect cab, the flagship operator environment for Case IH that proves their passion for industry- leading technology with quality.
Enlarged cab with an unmatched silence
An improved working experience with a spacious cab that minimizes fatigue and enhances operator wellbeing, even during extended seasonal shifts. The Optum's larger frame enables ample storage capacity, including a 20-litre cooled compartment, and a wider, unobstructed view of the tractor's surroundings, thanks to increased glass area and streamlined surfaces. With only 66 dB(A), the Optum AFS Connect is one of the quietest tractors on the market contributing to reduced stress and fatigue at the end of a long working day.
Smart operation at the touch of a button
You and your employees always have a lot to do. The Optum supports you with the innovative Multi Controller armrest: it enables a fast reset of preferences when changing drivers or changing jobs and places 95% of the most commonly used functions right at your fingertips. Many functions can be operated either via the touchscreen or via a new turn-and-press encoder dial, for that same personalised operation. The armrest position can be adjusted in four directions to suit any driver.
Supreme ride comfort
The 3 levels semi-active cab suspension settings and the active driver's seat reduce the overall vibrations during field work to bring the comfort you need. They can be easily set-up through the AFS Pro 1200 monitor.
The Puma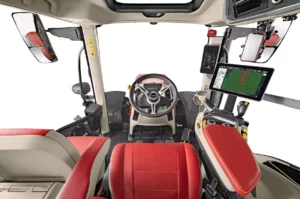 The new Puma cab, the same as big brother Optum, is larger than before, quieter than before, while improving overall comfort. Active suspended, heated and vented seat takes care of your body, and with a larger cab comes more glass and better visibility all-round the tractor. The new Case IH steering wheel, key fob for keyless operation, engine starter button and premium sound system will bring the premium comfort you deserve.
8% Larger Cab
The enlarged cab and larger frames enable more legroom as well as ample storage capacity, including a 20-litre cooled compartment under the passenger seat. You can enjoy an unobstructed view around you and on your implements thanks to the 11%+ larger glass area.
Quieter than before
With only 66 dB(A), the Puma AFS Connect is one of the quietest tractors on the market. Acoustics contribute to reduced  stress and fatigue at the end of a long working day.
Multi Controller armrest and AFS Pro 1200 monitor – available in Puma and Optum
The ergonomic Multi Controller armrest with AFS Pro 1200 monitor allows you to:
Easily navigate and accurately set-up the AFS monitor under harsh field condition thanks to the integrated encoder
Easily customise your run screens with seven nameable options, giving you the freedom to choose which information to display
Choose from over 100 functions to assign to eight freely-programmable keys
Assign implement functions according to individual preferences or implement requirements thanks to AUX-N capability
Add a second AFS Pro 1200 monitor.
We at T H WHITE have decades of experience guiding farms through the complex process of choosing the right machinery; and are always on hand to support your best buying decision.
Tractor Terms available until 3rd September
4+44 @ 0% retail finance for Quantum, Farmalls C+, Luxxum, Vestrum, Maxxum, Pumas and Optum.
Finance offer based on 50% of list price, T&Cs apply.
T H WHITE ProAgri offers the full range of Case IH machinery and our specialists are used to talking at length about the best tractor for every farm's needs.
Talk to your rep today about experiencing the CASE IH range.