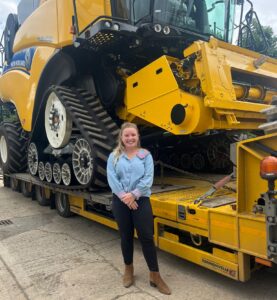 Part of the T H WHITE difference is our knowledge and expertise in both general and specialist equipment sectors.  One such area is estate management covering country estates, private landowners, large private gardens and those managing shoots or equestrian complexes. These and similar businesses often need an unusual mix of smaller tractors, agricultural equipment and groundcare items, ATVs, UTVs and attachments.
As an official dealer of New Holland, Iseki, Honda, Kawasaki, Logic and Wessex, T H WHITE is ideally placed to provide the right mix of equipment for these customers as we are delighted to welcome Sophie Taylor into her new role of Estate Management Specialist to support our territory.  Sophie will cover Wiltshire and Gloucestershire from our Knockdown and Marlborough depots.  Many of you may already know Sophie as the daughter of Andy Taylor.  Andy is one of our established sales colleagues who has worked for T H WHITE for over 40 years and whose remarkable depth of knowledge has earnt him the status of being one of T H WHITE's most successful salesmen.  A mentoring backdrop that will undoubtedly see Sophie thrive!
Sophie grew up on the family farm in Lea, just outside Malmesbury.  A mixed operation of cereals crops and a suckler herd of cattle, she has been around farm machinery and operations all her life and is very much at home with understanding the requirements of tending land and animals.  Having always loved children, she studied childcare at Cirencester college then switched into a two-year Agricultural apprenticeship at Lackham.  On completion she was lucky enough to find a local nannying post which also allowed her to continue supporting farm operations at home as a valued member of the family team. Sophie was also fortunate enough to do her apprenticeship at a neighbouring family farm where she helped rear their calves on and off for 6 years.
As the children Sophie looked after grew up, she felt it was time for a change.  Her attraction to T H WHITE is built on its family values, its size and diversity allowing for career progression and growth.  Her love for the outdoors and knowledge of machinery made it the perfect fit.  One she says is 'An amazing opportunity she should grab with both hands to make a success of'.
In her spare time Sophie is heavily involved in the Young farmers community being a member of the Malmesbury club before her teens.  She's held various club positions over the years including club chairman and county rally chairman for Wiltshire YFC. Sophie has also been heavily involved in public speaking and stock judging too.  In fact, she's appeared at national finals for both activities.
Sophie will be introducing herself to all existing T H WHITE customers in her area over the coming weeks and be providing impartial advice and recommendations in no time.  Meanwhile if you have a requirement for estate management equipment you can reach her on 07734446052 or email sophie.taylor@thwhite.co.uk