As we approach the next busy cultivation season, here is a look at some of the latest product developments  to  make your life easier.

Pöttinger's VITASEM linkage-mounted seed drills can be used on their own or in combination with soil preparation implements such as a power harrow. Thanks to their very low hopper, the seed drill is easy to fill and is equally effective for normal drilling, small seed drilling or precision drilling.
VITASEM's unique seed metering system features two completely independent metering units combined in one seed housing. The metering wheels are located on the same metering shaft, giving the advantage that the small seed and normal metering wheels no longer need to be individually locked. The spring-loaded, individually adjustable flaps can easily ride over foreign objects and a partition integrated into the seed flap prevents overflowing.
Separate inlet slides for the small seed and normal seed range make it easy to switch between small seed and normal seed metering by pushing in or pulling out the slides, making it possible to switch metering modes in seconds. The optimised shape of the metering peg ensures the highest level of seed protection.
Drilling rapeseed with low numbers of seed per square meter for optimum plant distribution is ensured by the unique small seed metering wheel with its saw-tooth shaped profile.
---

From HE-VA we have the new Disc Roller XL Contour, designed for more aggressive cultivation than its smaller sibling affords. The versatility of the one pass Disc Roller XL Contour can help reduce on-farm machinery costs.
The main features are similar to the HE-VA Disc Roller Contour, the most notable difference being the new, larger 610mm Sabre discs which make it possible the Disc Roller XL Contour to work at depths of up to 160mm (6¼in). A deeper cultivation allows the Disc Roller XL Contour to cope with greater amounts of crop residues as well as the destruction of cover crops. It is available in mounted or trailed versions, from 2.75m to 7.25m working widths. As above, it is available with a selection of differing front tools that include Top Cutter, Shattaboards, Slicerboards and Straw Tines.
Suitable for both primary and secondary cultivations at high speed, from stale seedbed preparation to the destruction of standing cover crops and when combined with the front Shattaboard it's an excellent tool for working down ploughed land ready for drilling.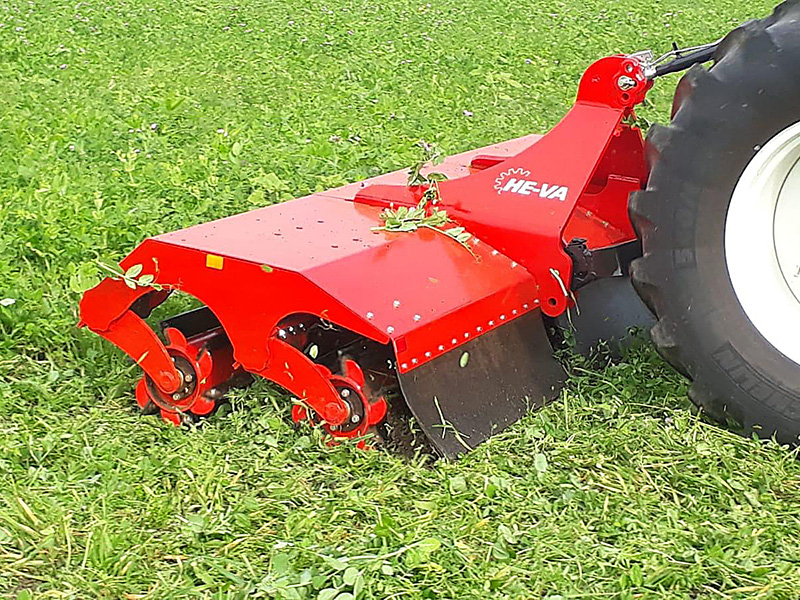 Another new launch from HE-VA is the Top Cutter Solo – the stand-alone version of the existing Top Cutter range of integrated vegetation and stubble control machines. Using mechanical means it is designed to roll, cut and bruise cover and catch crops, as well as vegetable crops, thus reducing the reliance on herbicides. Maize stubbles also benefit from this process by reducing the burden of the maize boring worm and fusarium, again reducing reliance chemicals.
It is equally suited to conventional and organic farming. Being front or rear mounted, it can be used as a stand-alone machine or in conjunction with a cultivator or drills.
When front mounted and used in conjunction with a rear mounted machine, the Top Cutter Solo has the benefit of lying down the crop in the direction of travel to assist the working of the following machine. This one-pass system saves time, reduces fuel costs and lessens compaction, with reduced traffic helping to conserve the integrity of the soil.
The twin rotor design Top Cutter Solo is available in five widths from 3m to 6m, rigid in 3m and 4m, and hydraulic folding in 4m, 5m and 6m widths. Being a twin rotor design it delivers twice the cutting action in one pass compared to single rotor versions.
---
Successful seeding relies on a combination of precision, speed and spacing to achieve maximum germination rates with minimum wastage. The ability to seed different crops at different application rates is also important and Kuhn PREMIA mounted seed drills score highly in all these areas.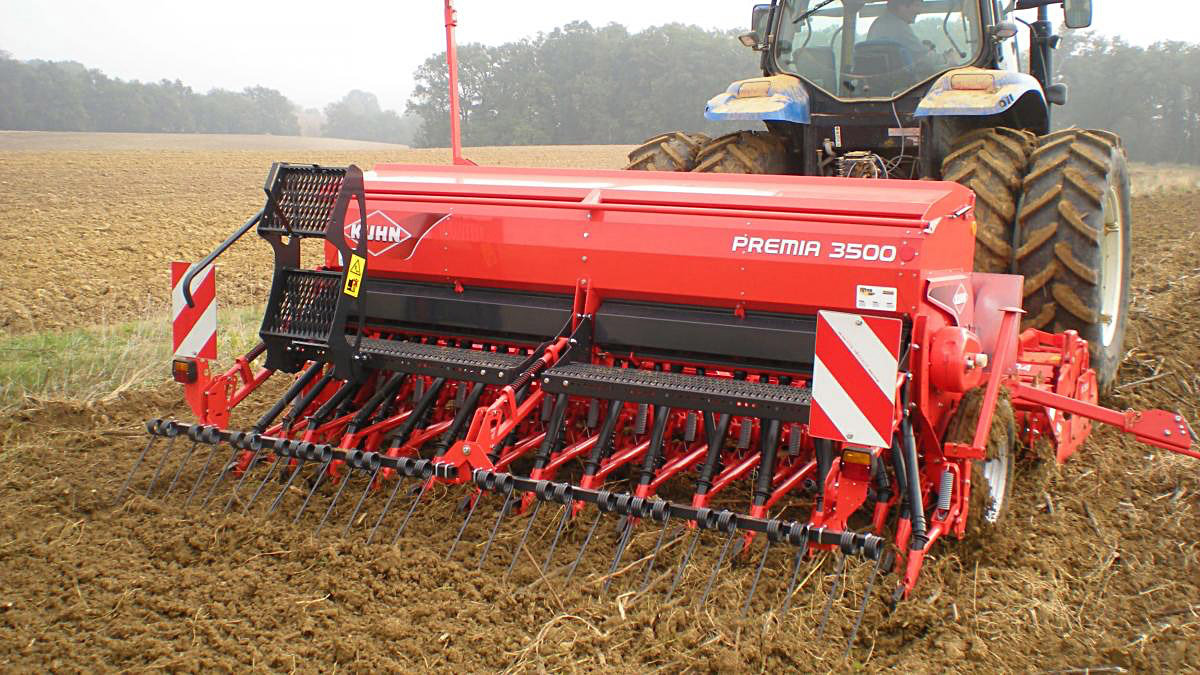 At the heart of the PREMIA – which comes in working widths from 2.5 to 4m – is the HELICA volumetric distribution system. This uses fluted rollers suitable for all seed sizes and shapes and capable of application rates between 1.5 – 450 kg/ha, remaining accurate and precise throughout the whole operation. It delivers regular seeding rates and distribution in the row, even on slopes and uneven ground and is not affected by vibration. This level of accuracy makes the PREMIA ideal for fine seeds at low application rates.
Add the optional SH30 or SH40 hopper and you will also be able to seed different crops at different application rates without having to mix them. There is a choice of a single disc model or Suffolk coulters, the latter having an easily controlled maximum seeding depth which prevents seeds from going too deep in light soils.
---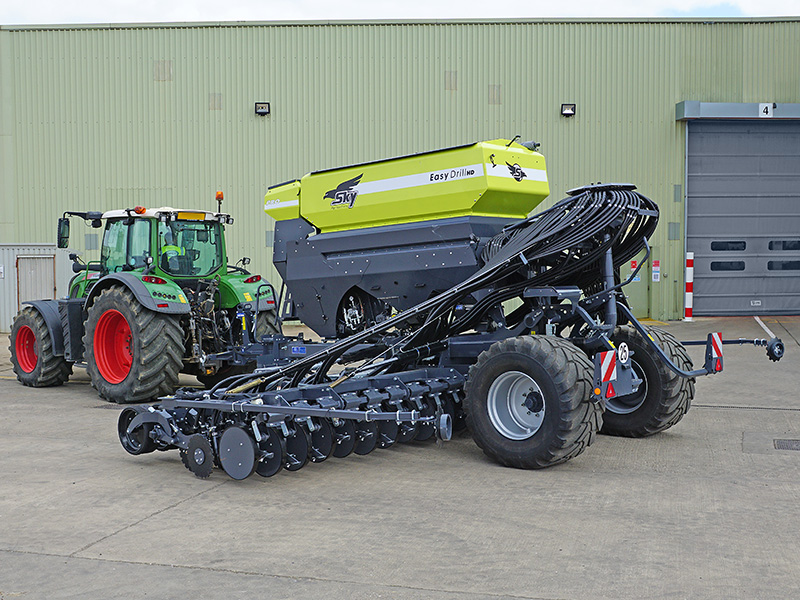 Following the success of the 3m, 4m and 6m EasyDrill, Sky Agriculture has introduced an 8m model to the range. Using up to four hoppers and being able to drill product at two different depths, accurate placement of multiple combinations of seed and/or fertiliser at two different depths is possible. Separating the placement depth of seed and fertiliser increases the efficacy of applied nutrients and eliminates the risk of shoot burn with certain fertilisers.
The main hopper is split between grain and fertilizer, each having its own pneumatic distribution. There is also the option of integrating up to two separately metered PRO hoppers so that seed or microgranules can be introduced via either distribution circuit.
The ability to seed from four hoppers at once allows for many possibilities such as mixed cover crops, companion cropping, small seeds or slug pellets to be added as desired. It also combats the risks of seeds of different sizes settling out in the hoppers.
With row spacings of 16.6cm, the 8m drill services 48 coulters each with seed and fertiliser outlets. 250kg coulter pressure provides the versatility to drill straight into hard stubbles, cultivated soils and direct and through cover crops. An additional feature of the coulter line is the ability to transfer weight hydraulicly between the front press wheels and the rear press wheels. This feature comes into its own when, under damp and/or loose soil conditions weight is transferred onto the front press wheels, while in dry seeding conditions the weight can be moved to the rear press wheel for improved slot closing. 
The 8m EasyDrill is ideal for the larger acreage farm, where higher HP tractors are generally available allowing a typical working speed between and 6 and 12km/hour depending on conditions. The additional width allows a higher work rate for this most versatile of drills.
---
Väderstad's new NZ Extreme 1250-1425 wide heavy-duty tine harrow – currently in the final development phase – will be available in the UK from October 2021. The NZ Extreme is built from a five section frame, which can adapt to the field surface and maintain the selected depth. This effectiveness of this feature is further enhanced by an innovative weight transfer system, ingenious wheel set-up and heavy machine design.

The NZ Extreme is easy and quick to set up from the comfort of the tractor cab too. The machine brings several new patented solutions to the farm industry as well – in particular a strong, unique tine mounting.
Farmers who have trialled the new NZ Extreme report that they really like the work result and the overall performance of the machine. You will be able to try it too as soon as it becomes available – just register your interest by contacting our resident expert Demonstrator Mike Quilter on 07887 540200, or email him, mike.quilter@thwhite.co.uk
---
Contact T H WHITE Agriculture branches for more information about autumn cultivation equipment, or request a demo of the machine that interests you at www.thwhite.co.uk/get-in-touch