Fiat has recently introduced two new models to add to its range – the all-new Fiat Tipo and the stunning new Fiat 124 Spider.
Fiat presented the all-new Tipo Hatchback and Station Wagon in Turin this month, when the new Fiat Family Range took over the stage at the international press launch.
The new Tipo five-door and the new Tipo Station Wagon introduce exceptional roominess, outstanding efficiency and a stylish Italian design. The hatchback is spacious and capable of accommodating three adult passengers in the rear, with dimensions that make for class-leading legroom and impressive boot capacity.
The Station Wagon adds an additional 110 litres of boot space, which at 550 litres is class-leading. It can carry loads of up to 1.8m in length, courtesy of an extra 20cm of length and its flip-and-fold 60/40 split rear seats provide a completely flat load floor.
The features and cabin compartments have been designed with convenience and capacity in mind and include a USB port for charging and connecting devices, and secondary controls to ensure a safe and efficient driving experience.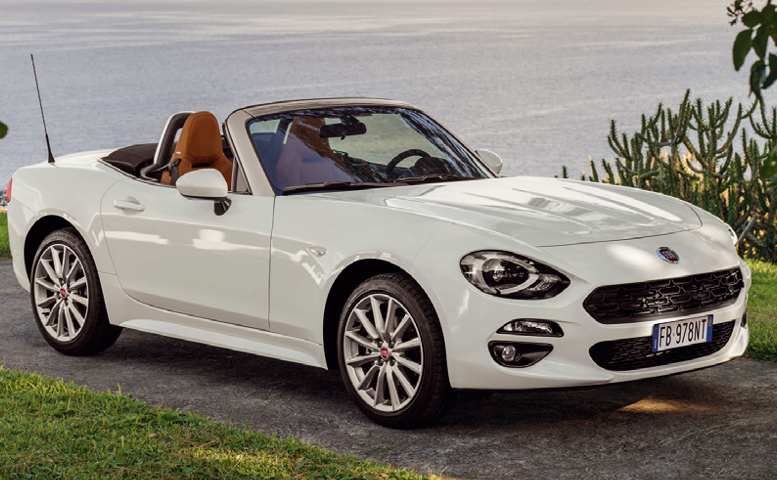 The eagerly-anticipated new Fiat 124 Spider was launched in June in Verona, Italy. Styled with classic Italian flair and reviving a storied nameplate, the new Fiat 124 Spider brings the authentic, Italian roadster driving experience to a whole new generation of British driving enthusiasts. Designed in the Fiat Style Centre, the front-end of the new Fiat 124 Spider encapsulates the essence of its classic predecessor in a modern and bold package – broad and muscular but also elegant and perfectly proportioned. To minimise weight, improve longevity and encourage spur-of-the-moment open air driving experiences, the multi-layer canvas hood is a manual unit that can be operated in seconds using minimal force and without the driver having to leave their seat. Doing so reveals a cabin built to the highest standard from a variety of top-quality soft-touch and premium materials, painstakingly laid out and fine-tuned to ensure the perfect layout of pedals, steering wheel and gear lever with a clear view of the three-dial instrument cluster with a purposeful central rev-counter.
Discover the full Fiat range at www.motors.thwhite.co.uk/fiat
Save