Following the July 2020 fire at the Grain Terminal in the Port of Tilbury which damaged its storage silos, work is now underway to rebuild the terminal back to its original functionality as the largest import and export operation in the UK.
The Thames-side terminal handles approximately two million tonnes of cereals, pulses and beans per annum was initially built back in the 1960s.
For more than 50 years the grain processing facility has been an important facility for the global market, ensuring the food chain is reliably supported and supplied on-time with quality foodstuffs, particularly for the flour milling and bakery sectors.
Working closely with Port of Tilbury representatives and other contractors associated with the reconstruction programme, T H WHITE Projects has been appointed as the Principal Contractor and Principal Designer for stage one of the rebuild, involving the design and installation for 20,000 tonnes of grain storage.
In conjunction with Clark Smith Partnership, the civil engineering requirements were assessed and a detailed specification was prepared in readiness for a phased approach to the steel silo installation.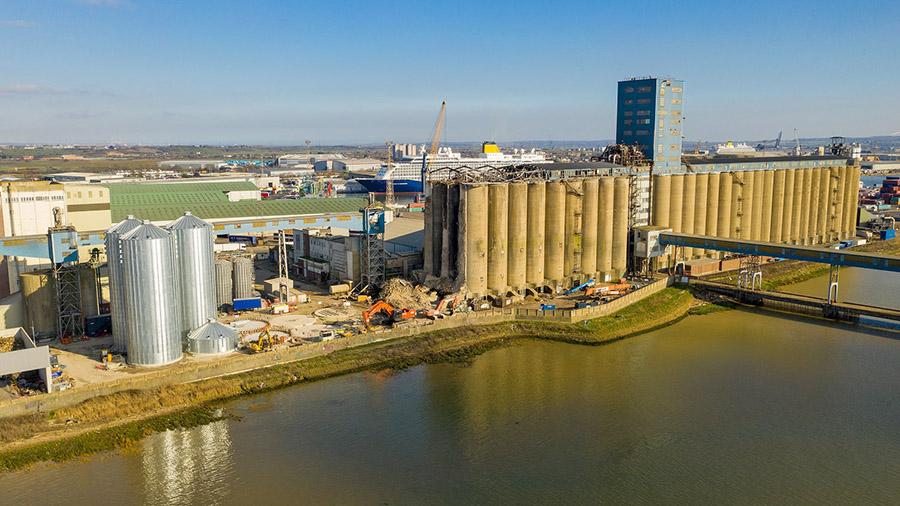 The existing bases required modification to suit the new silo location. This necessitated the removal and reinstatement of the base slabs and piling of the infeed access tower support structure, MCC and transformer bases ready for subsequent phases of the installation.
Having established a safe site and working area with a welfare and cabin complex, THWP was able to proceed with the civil works content of the project, addressing the scheduled redesign of the silo bases and surrounding area.
Ten 2000-tonne corrugated steel silos, each 11m diameter and 30m high, are to be erected in two rows of five silos, fed by a series of overhead high-capacity chain conveyors rated at 700tph. The reclaim machinery runs underground in two parallel tunnels beneath the silos and discharges at 650tph.
Four silos have already been erected with a further six to be completed in the months ahead once the new bases are finished. Four of these will include an aeration and temperature monitoring system.
All the machinery, plant and equipment has been carefully selected to comply with the latest engineering and safety standards while a high quality of workmanship is also essential to meet the operational requirements and environmental conditions alongside the Thames.
Site safety and CDM boundary interface between active contractors is of extreme importance, especially with the demolition of the existing concrete grain silos underway, so is subject to continuous monitoring.
The 20,000-tonne steel silo storage facility is due to be fully completed, commissioned and handed over to the Port of Tilbury London Ltd early in 2022.
Further updates on the project progress, interface and supporting photographs will be released in due course.
T H WHITE Projects specialises in cereal processing and storage solutions of all sizes, from small farm installations to large commercial/industrial bulk facilities, taking each project from conception to completion. If you have a scheme you would like to talk about, please do contact us on 01380 723040 or email projects@thwhite.co.uk