Unleash Efficiency and Power with the New Holland B110D Backhoe Loader from T H WHITE Construction
If you're in the market for a versatile and reliable backhoe loader, look no further than the New Holland B110D. Renowned for it's exceptional performance and durability, the New Holland B110D is available from T H WHITE Construction. Now with the added benefit of extended and very competitive finance terms, namely 3 years at 0% .. this could well be the perfect opportunity to equip yourself with a machine that delivers unmatched efficiency and power. Read on to discover why the New Holland B110D should be your top choice of backhoe loader.
Unrivaled Performance and Versatility
The New Holland B110D backhoe combines powerful performance with versatile functionality, making it an indispensable asset on any construction site. With it's robust 110HP engine and smooth hydraulic system, this backhoe loader effortlessly tackles a wide range of tasks, from excavation and digging to loading and material handling. The B110D's exceptional lifting capacity and digging depth ensure maximum productivity, allowing you to complete projects efficiently.
Operator Comfort and Safety
Designed with the operator in mind, the New Holland B110D backhoe loader prioritises comfort and safety. The spacious and ergonomic cabin offers excellent visibility and intuitive controls, ensuring optimal operator comfort and reducing fatigue during long working hours. The machine's advanced safety features, such as ROPS and FOPS, provide peace of mind and comply with industry standards. With the B110D, you can trust that both operator comfort and safety are of the upmost importance.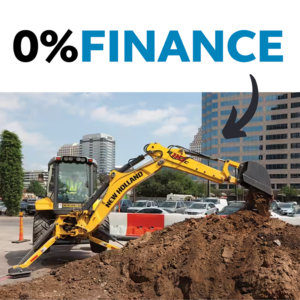 Extended Finance Terms for a Hassle Free Acquisition
To make the New Holland B110D backhoe even more accessible, T H WHITE Construction is offering unmissable extended finance terms. These finance terms allow you to spread the cost of your investment and minimise upfront costs. Whether you're a small contractor or a large-scale construction firm, these competitive finance options make owning a New Holland B110D backhoe loader a viable and cost-effective choice.
The New Holland B110D backhoe loader is a true powerhouse, delivering exceptional performance, versatility and operator comfort. With it's impressive lifting capacity, digging depth, and advanced safety features.  Designed to tackle any construction task with ease and now with the availability of extended 0% finance terms, acquiring the New HollandB110D is even more convenient and affordable.
Key Specification:
Stage 5 New Holland FPT engine 110hp
4WD
Deluxe cab with air con
Anti theft device
4 speed powershift transmission with auto function
Fwd/Rev on joystick
Auto boom suspension
3rd service to bucket
6 in 1 bucket with teeth
Joystick pilot controls for backhoe
Extending backhoe with hydraulic power side shift
Safety check valves on all main ram
Beacon and green beacon
Radio
Air suspension seat
16/70-20 16PR & 16.9-30 Michelin Industrial tyres
Front fenders
Includes free service at 50hrs
DONT MISS OUT!
0% finance over 3 years. (subject to approval & T&Cs apply)
3 year / 3000 hour warranty
Own it from £1769 per month based on 3 + 33 at 0%.
Don't miss the opportunity to enhance your construction capabilities with this reliable and efficient backhoe loader. Contact T H WHITE Construction or your dedicated Area Manager to take advantage of this latest offering or call our New Holland construction expert Charlie Rabbitts on 07775 684876 today.