A hoofcount footbath reduces herd lameness and helps reduce cost, while offering you total control over the way the footbath works.
With the average cost of each individual case of lameness being more than £300, an automatic footbath is a valuable investment to ensure every cow receives the best preventative care. The Hoofcount difference is the flexibility offered with set up as the footbath itself, counter, chemical concentration and frequency are all selected by you – then set by our engineer for a worry-free installation.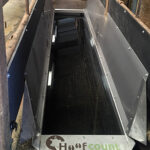 Excel Footbath
Up to 3.7 metres long, with an internal width of 600mm, this bath allows three dips per hoof and is ideal for 200 plus herds and rotary systems. Strong, stainless steel side sheets keep the chemical in the bath and also ensure cows cannot step on the bath sides. This gives you total peace of mind regarding making the best use of the footbath.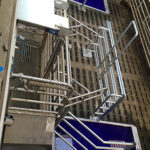 Robot Footbath
Robotic parlours need special consideration when installing footbaths as space may be tight. This is why Hoofcount recommend a system sized to meet your needs, which may be a smaller size than other installations. Talk to your installer to get the best size for you.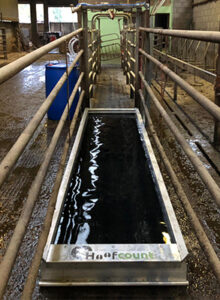 Standard Footbath
The standard Hoofcount footbath is up to 3 metres long, with an internal width of 800mm. This choice of bath allows two dips per hoof and is usually used in smaller herds.
Talk to your T H WHITE rep today about our range of Hoofcount footbaths.