The future is electric and Iseki will shortly be part of it, when they release their hotly anticipated SXG E2 electric cut and collect mower in 2024.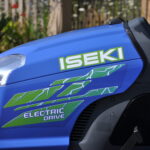 Regardless of personal opinion of electric power as a means to propel machinery and transportation vehicles, you have to admit that this clean, battery driven and zero emission energy has been going through something of a recent renaissance.
The E2 has been designed, engineered and built in Japan and promises to become a valued addition to Iseki's SXG range, often lauded as the ultimate in cut and collection mowers, due to their ability to perform exceptionally well even in wet conditions, which allows work to continue without weather restrictions.  SXG's are also versatile enough for domestic, commercial and contractual applications, reliably performing and leaving a superior finish in all applications.
We at T H WHITE are certainly looking forward to running this first electric Iseki through its paces as early test indications suggest that whether you are mowing your lawn, mowing an estate or tackling numerous contracts; the new E2 will perform consistently well, just like its older Diesel brothers.
Contact your T H WHITE Groundcare rep to pre-book a 2024 demo of the future of Iseki today.