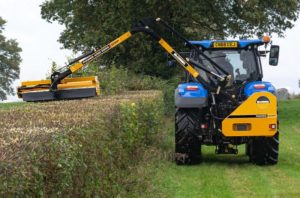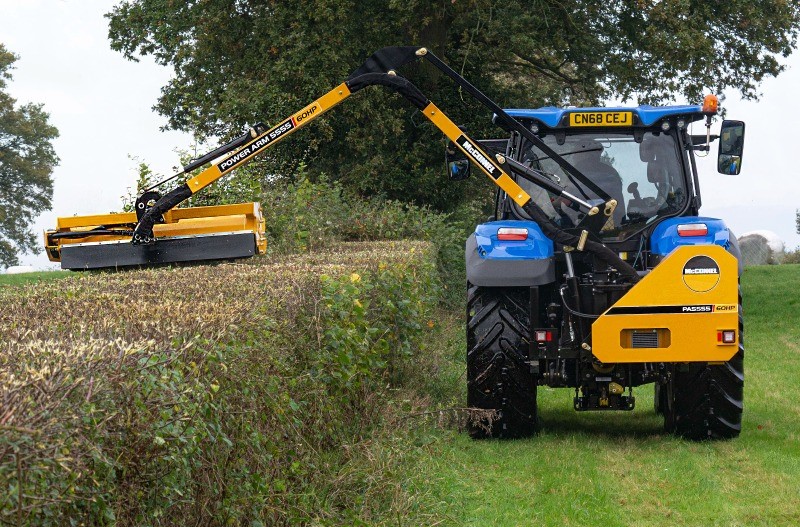 With our unpredictable weather, growth of hedgerows and verges has been early and rapid this year, so we understand you'll want to make a fast start to cutting season and our in-stock McConnel Power Arms will help you do just that.  We are highlighting three popular models this month in the McConnel's 55 Series which offer power, performance and excellent value for money.
Any model in the 55 series is a staple market leader for farmers, contractors, local government or green maintenance teams. Cast iron pumps and gear boxes ensure these units are built to last serving you season after season and a choice of electric or cable rotor controls is available.  This series comes with variable forward reach (VFR) and McConnel's signature feature –parallel-arm and Hy-Reach geometry – a standard part of the design, as are seam welded c-section arms and fully bushed pivot points to reduce stress and ensure greater durability.  Add to that a hydraulic safety breakaway, power slew, and a range of attachments, and it's easy to see why these machines are the envy of other mainstream mid-range Power Arms.
The trusty PA 5455,  is fuel efficient with outstanding manoeuvrability for precision working.  With 5.4m reach, 55hp hydraulics it comes complete with cutting head and oil and buyers can choose a 1.2 or 1.5m head.  Step up the horsepower to the PA 5555 or PA5755 with 5.5m and 5.7m reach respectively at 60hp.  These models are fitted with high visibility LED road lighting and an integrated oil cooler as standard to ensure longevity at the higher rated power.  They make light work of even the toughest of clearance jobs including hedges with 3 years growth.
All models are offered with a wide range of attachments and our optional orbital unit is a great add on allowing the arm to work at additional angles to cater for cutting in narrow lanes.  All our power arms are supplied with the McConnel Multicut Flailhead in which the spiral layout of the lugs ensures that only two flails are cutting at any one time for a smooth, continuous cutting action.  We also offer a wide range of attachments including ditch and grip cleaner, multisaws and cutterbars.
So go on, get prepared for cutting season, contact your T H WHITE sales representative today for a great McConnel deal.