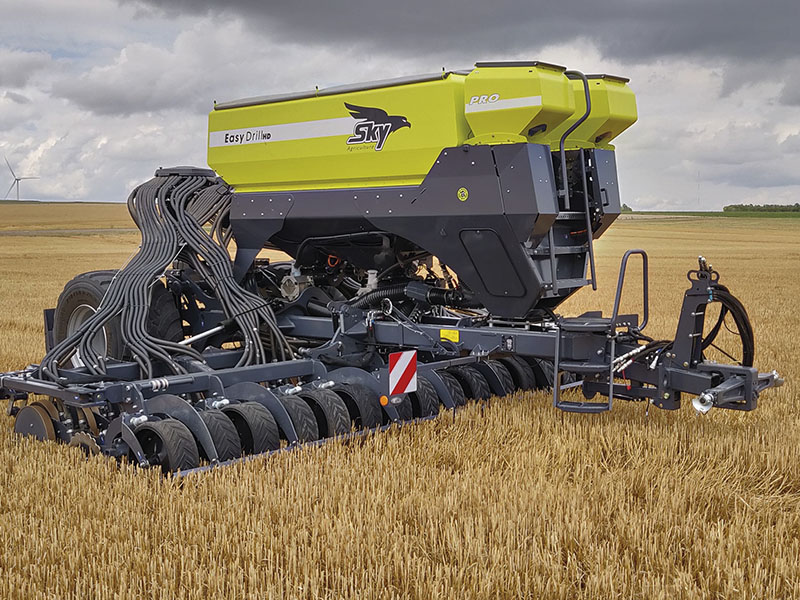 The Sky Easy Drill is specifically designed as a no-till in both arable and grassland settings. It works equally well in minimum tillage conditions, on consolidated ploughed soil or when drilling into cover crops so is one of the few drills that can be truly advocated as a direct drill, a mintill drill and a grassland and cover crop drill too!
The four hoppers allow differing products to be drilled at two different depths. Individual coulter selection, choice of seed spacing and alternative seed distribution are all controllable from the cab and the 3.5 degrees coulter angle dramatically reduces soil disturbance retaining as much moisture as possible in establishment.
Available in working widths from 3m – 8m, a 6m EasyDrill typically takes 180hp to pull which reduces fuel consumption, tractor weight and therefore damage to the soil structure when drilling in damp conditions.  With 250kg of coulter pressure, this drill more than lives up to its direct drill nature and speed and accuracy is better than ever!
Take a watch as it drills into cover crop…
Additional features:
Stable drilling platform – seeding line comprises rolling front gauge wheel, easily adjustable dual disc section to bogie style rear press wheel to minimise variation
Straight coulter tube drop for better seed placement
Four hoppers, four products, four metering units giving two different drilling depths controlled from one control unit.
The two outlets per disc allow a minimum of two products to be applied such as grain and fertiliser (or chosen cover crop aid)
Rear press wheels with scrapers – versatile for wet and dry weather
Easy seed hopper emptying due to the emptying shutter and split folding design of the machine
Hydraulic ram weight transfer system in the centre of each wing transferring weight to drilling conditions and differing seed beds
Cab controllable row spacing allows dual distribution system to drill companion crops at differing depths in one pass
Easy Quartz 800 touch screen control box with Isobus – All four metering units are controlled from the full colour touch-screen console making Sky drills exceptionally user friendly
Variable rate seeding on all four hoppers is now a possibility
Redesigned chassis for enhanced visibility
Large diameter tyres and reversing camera
Double-sided hopper access steps with safety rail
Sealed hub bearing removing greasing maintenance
Would you like to see it in action?  Call your T H WHITE local rep or request a demo online at www.thwhiteagriculture.co.uk/get-in-touch.