Ransomes and Jacobsen have launched three significant new products which are set to bring new levels of productivity to golf courses and maintained grounds.
The big news is the all new Ransomes HR800 (070543) 4.9m (16 foot) width
of cut wide-area rotary mower. Built on the same foundations as the Ransomes MP Series of wide area mowers, the HR800 has been further developed, to achieve a width-of-cut with a power-to-weight ratio, never before seen in this class. Capable of mowing up to 8.6 hectares (21.3 acres) per hour, the HR800 achieves a weight saving of more than 800 kg against other 16 foot mowers, thus setting a new industry standard for the most efficient use of available power.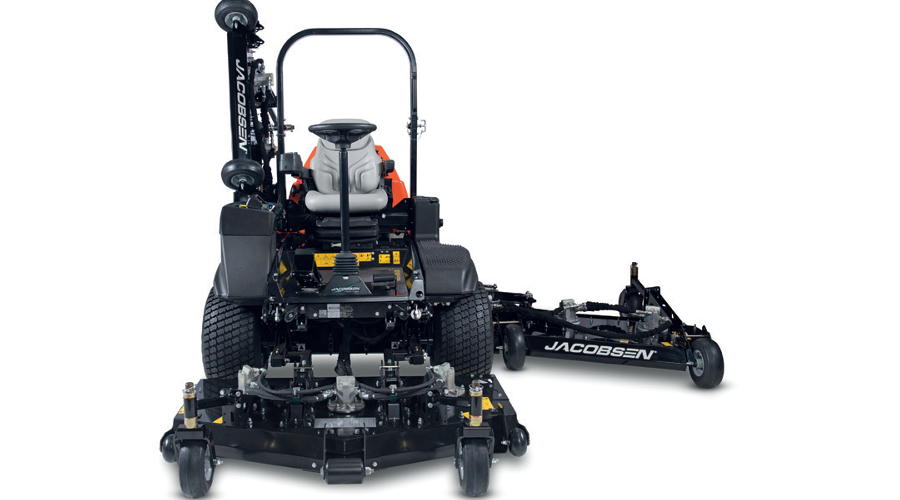 The Jacobsen HR700 (also available as the Ransomes branded MP653 XC) is a new 4.27m (14 foot) width-of-cut mower built off the successful MP platform. As the industry's only 14-foot wide mower it can cut up to 5.14 ha/hr, 25 per cent more than a typical 3.3m (11 foot) batwing mower, making it perfect for maintaining large open green spaces such as parks, golf courses, airports and sports fields.
Overall transport size is maintained, giving great manoeuvrability, the narrowest transport width in class (1.67m) and the extra cut width now guarantees a zero uncut circle.
All the new machines are powered by reliable Tier 4 Final compliant Kubota turbocharged diesel engines. For all the information, or to arrange a demo, please contact your Groundcare branch.
Save