If you are a farmer or the owner of a larger property, rising crime rates are imposing an ever-increasing security headache. Remote alarm systems have been around for a while, but they are often unreliable, difficult to install and EXPENSIVE!
Now T H WHITE is offering a truly flexible, hub-based security system that's genuinely inexpensive and quick to set up which will bring peace of mind by monitoring your premises, equipment and machinery.
From just £840+vat you can protect your home with an Ajax wireless intruder alarm with camera visual verification. External wireless camera PIR devices can be added from as little as £219+vat to protect additional areas or outbuildings.
Operating entirely with strong and stable radio signals with no wires, the Ajax system has up to 2km detection range and features a built-in lone worker alarm.
There is a wide choice of detection devices that can be discreetly fitted to any building or machinery, all of which communicate with the Ajax Hub 2 Plus. The thing that makes the Ajax system uniquely user-friendly is a dedicated mobile phone app, free for iOS or Android. This allows you to monitor your property and equipment at any time of day or night, arming or disarming any of the detection sensors at will, as well as receiving audible and video confirmation of any intrusion.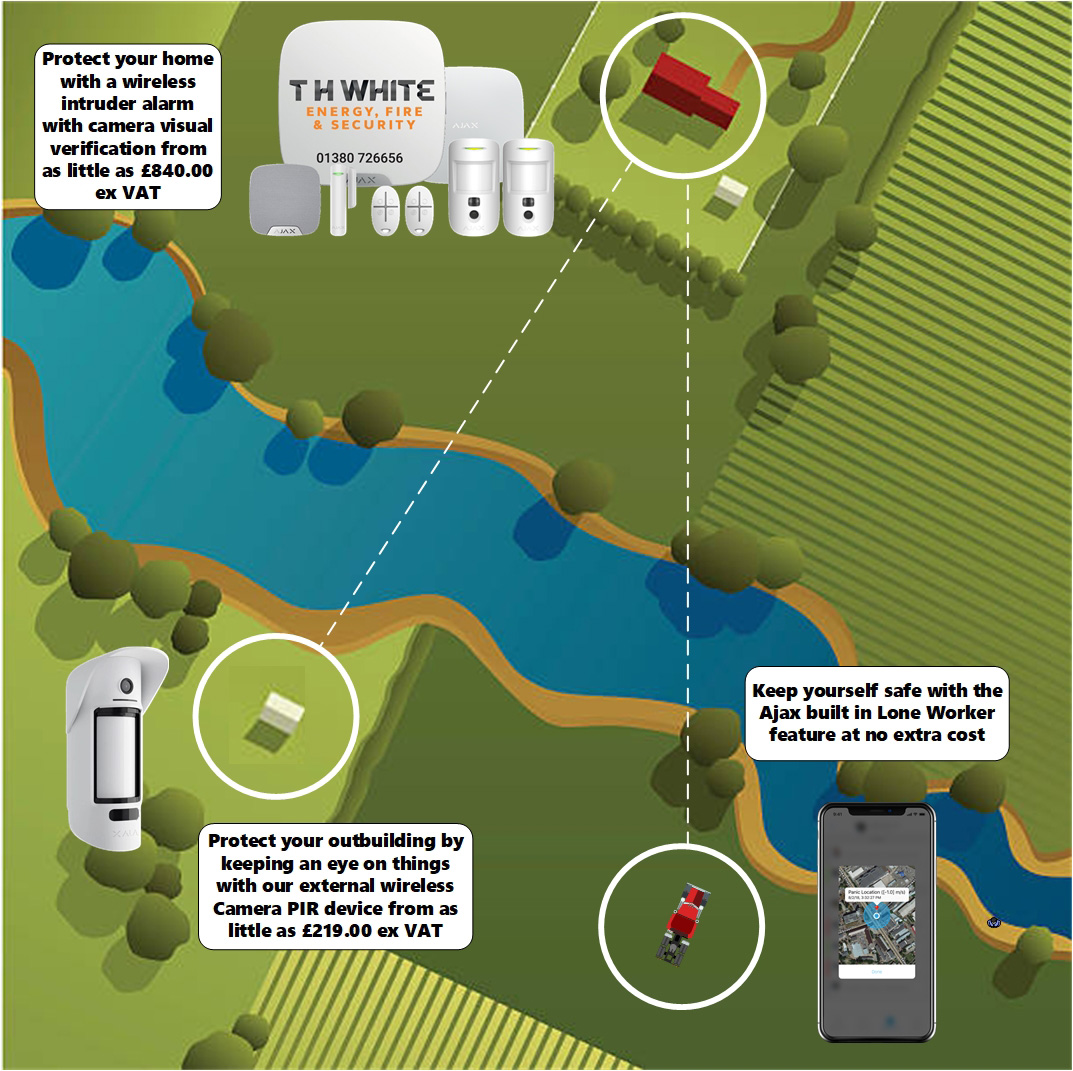 The Ajax Hub 2 Plus wireless kit comes with a door contact, two internal camera motion detections, an internal siren and an external siren. The motion detectors come with cameras built in so that when there is an activation, you can visually verify the alarm.
We can also add wireless external camera motion detectors, that allow you to monitor sensitive outdoor areas that you would like protected.
A big plus with the Ajax system is the lone worker alarm. If a worker feels under threat in the field, all that's needed is to press the panic button in the app. An alarm with grid co-ordinates is immediately sent to all active users on the system. This can also be set up to notify a central monitoring station who will call emergency contacts.
Installation of the Ajax system can take less than a day and, because there is no wiring, you have complete freedom to move equipment around the farm. Another clever feature is the 'end of day' alert in which the system can be set up to remind app users if the alarms have not been set at the end of the working day.
For the full story on the Ajax system, contact Luke Roche at T H WHITE Energy, Fire & Security on 07833 480212 or email him at luke.roche@thwhite.co.uk.