The Manitou ULM (Ultra Light Machine) is a new telehandler so light and compact that it can be transported easily on a road trailer with a Gross Vehicle Weight Rating (GVWR) of just 3.5 tons, but can lift up to 1.5 tons to a height of 4.3m. With a 35hp engine and 29cm ground clearance, rough ground is no problem either.
The two new models in the ULM range – 1.25 and 1.5 tons – are set to be real gamechangers for agricultural, construction, landscaping and equestrian users and are designed to save time and money. Not only are they easy to transport, but with a width of 1.49m and a height of 1.92m, the machine moves with ease in the tightest spaces. The small turning radius and 4-wheel steering mode both make manoeuvring even easier.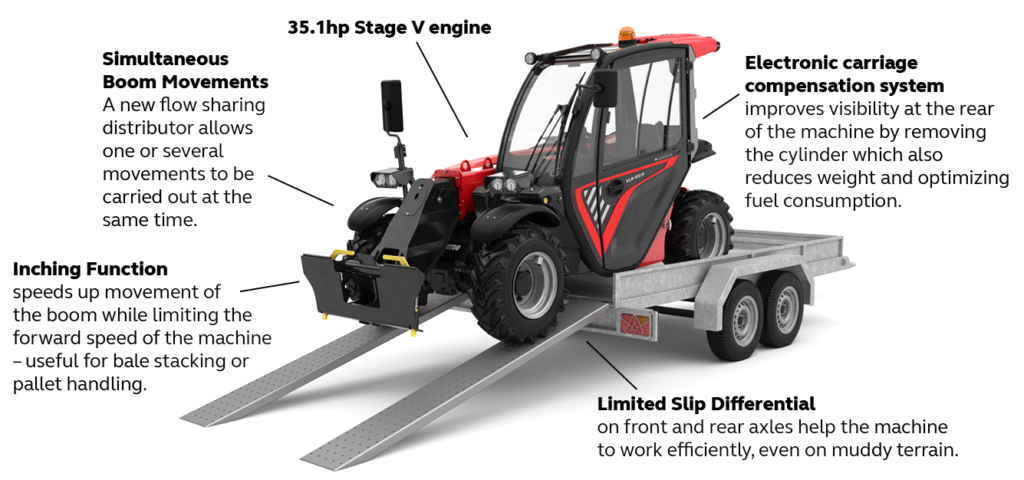 Hydrostatic transmission means you can choose your speed with a simple gesture (+/- buttons on the JSM), while the hydrostatic transmission guarantees handling without jolts, perfect in cramped spaces. Gears can be changed while driving too.
20 different attachments are available (including pruning clipper, snow blade, bale clamps, buckets, big bag handler and more) with 3 types of attachment carriages: 4-point carriage (as standard), skid steer carriage (option), Euro carriage (option).
With three levels of finish and optional extras including air conditioning and a radio, you can specify your Manitou ULM exactly to suit your preferences.
Watch it in action for both the agriculture and construction sectors
A full range of Manitou value-added services is available to maximise productivity:
Warranty extended up to 6 years/6000 hours,
maintenance and repair options
remote access to key machine information through connectivity
And a single point of contact to help you realise and finance your investment.
Plus its never too late to customize and upgrade your solution with a wide range of retrofit kits
The order window will be opening soon. By registering your interest now with no obligation, we can make sure you are on the priority list to receive one of these outstanding compact telehandlers in 2023. Just contact your T H WHITE Agriculture or Construction representative and we'll take care of the rest.