T H WHITE has supplied many MacDon headers to delighted customers since becoming a dealer for the Canadian manufacturer in 2019. This year is no exception having recently installed our LARGEST header yet… a 45ft MacDon FD2 Series FlexDraper to Hopkins Estates Ltd in Wincanton, Somerset. Coupled with a New Holland CR10.90 Combine, this header is helping to maximise harvest for Mr Hopkins who is very impressed with the performance of the FD245.
What's more T H WHITE has secured exclusive rights to supply MacDon headers for all types of Combine in our territory.
See the MacDon FD2 FlexDraper  in action on the Hopkins Estate below:
---
MacDon FD2 Series FlexDraper gives you More Capacity, More Speed, More Flex
The FD2 is the evolution of the world's first flexible draper header for combines, which MacDon introduced 20 years ago. An exceptionally well-designed header, the FD2's strengths lie with it's ground following ability, speed of cutting, high capacity heads-first crop feeding, and ease of adjustment.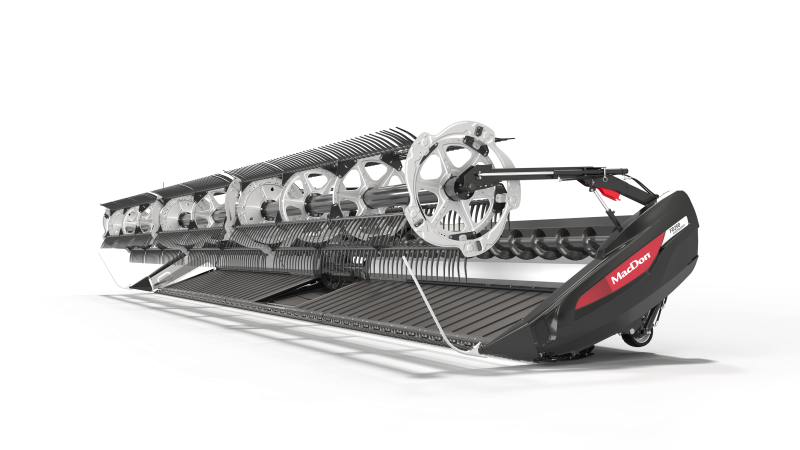 Available in a size to suit your operation from 25ft (9.1m) to 45ft (13.7m), all FD2 header models feature an ultra-deep deck with 50inch (127cm) deep drapers to give more capacity. These huge drapers cleanly lay down even the biggest bushiest high-volume crops, swiftly carrying them head-first into the feeder house, keeping the combine running smoothly with consistent feeding.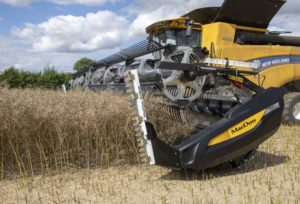 Clean and even cutting at faster speeds is achieved with MacDon's ClearCut High-Speed Cutting system. Powerful knife drive and large surface area knives with Pointed or PlugFree guards mean the FD2 can cut at high speed and close to the ground even in difficult conditions. VertiBlade Vertical Knives are an option that fit seamlessly onto the header with the Quick Latch End Divider system. Vertical knives reduce seed loss in tangled shatter-prone crops like oilseed rape.
MacDon's Active Float System is integrated but independent of the combine's auto header height control. It allows the FD2 to effortlessly float over ground fluctuations and cut extremely close to the ground without pushing the soil. This works along with the three-section flexible header with double and triple reel configurations. The entire header frame, cutterbar and reel flex as a unit, while maintaining a close reel-to-cutter bar relationship. ContourMax is a performance option which adds strategically placed wheels under the FlexDraper that can be hydraulically adjusted on-the-go using in-cab control. This enhances the Flex/Float function of the FD2 and allows cutting up to 18inch whilst still mirroring the contours of the ground surface – setting you up for the next cultivation/seeding with a consistent height of stubble.
To learn more about the vast array of features included with the MacDon FD2 header and how it can help you achieve better harvesting performance in any crop, in any conditions – contact your T H WHITE Agriculture rep today HERE