Working closely with Chippenham-based Huber Technology, the T H WHITE Projects team has been actively involved in the utilities industry.
Having achieved several successful references for projects at Beddington, Hogs Mill and Crawley, for which T H WHITE Projects manufactured and installed structures and platforms, the latest opportunity involved several systems being installed at a waste water treatment facility in Basingstoke, Hampshire.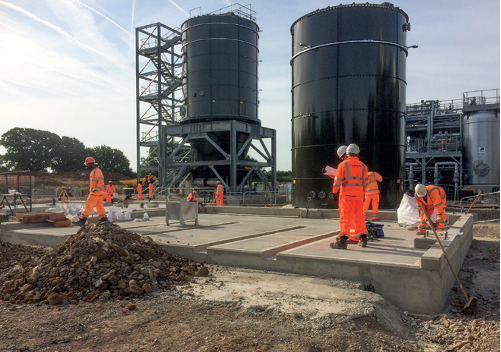 The new project involved the design, fabrication, supply and installation of an additional four large operating platforms with their associated supporting steelwork and access stairways. Each of the four operating platforms, which accommodate the Huber Technology process machinery on elevated floor areas, were made at the T H WHITE factory in Devizes.
The platforms have been made to a high standard of quality and workmanship, thus meeting the arduous industrial requirements imposed by the Water Industry. The hot-dip galvanised finished platforms, two with a floor operating size of 2.5 X 6.0m, and two at 3.0 x 6.0m, provide safe working access to each unit for all site personnel.
The platforms facilitate daily inspection and monitoring of the Huber Technology process equipment which itself is of outstanding quality and produced from a high grade of stainless steel due to the aggressive nature of the material being processed through its internals in the waste water treatment plan.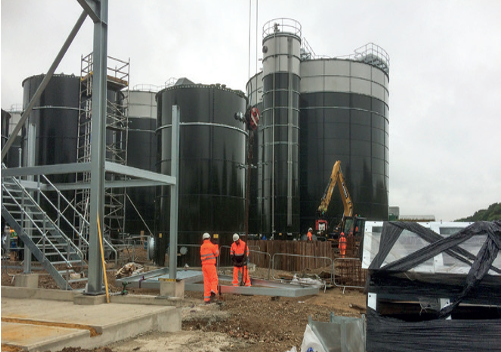 Working on a utilities site requires a highly skilled and trained team of engineers to meet the very strict codes of practice and health and safety regulations. Members of the T H WHITE Projects team have the necessary qualifications and skills which contributed to the successful completion of the Basingstoke project.
The photographs show the environment of the waste water treatment plant and three stages of the build programme, with the base slab being prepared for the main steelwork and fabricated structure, the platform under construction and the finished system after commissioning.
T H WHITE Projects is soon to move into a new purpose-built office and factory at the Devizes premises, where it will have the capability to design, manufacture & install fabrications from either mild steel or stainless steel to suit all requirements, such as supporting structures, towers, gantries, mezzanine floors and platforms, plus any necessary access stairways and ladders. 
As well as the fabrication and installation of bespoke items, T H WHITE Projects specialises in grain processing and storage solutions of all sizes, from small farm installations to large commercial/industrial bulk facilities, taking each project from conception to completion. If you have a scheme you would like to talk about, please do contact us on 01380 723040 or email projects@thwhite.co.uk