In another industry first, Ferris IS®2100Z and IS®3200Z zero-turn commercial mowers are the first models to be fitted with the Vanguard Oil Guard™ system. This revolutionary technology results in extended maintenance intervals, faster oil changes and prolonged engine life.
The system continuously exchanges oil between the engine and an external oil reservoir. It's a revolutionary design for a commercial mower that protects the engine oil from thermal breakdown, which makes it possible to extend oil change intervals and produces a cooler running engine. Furthermore, because operators have direct access to the oil filter (positioned immediately beneath the filler cap) and drain tube, changing the oil is quicker, easier and mess-free. The result is a more productive and cost efficient mower.
The basis of the system is a 'dry sump' engine. This holds a minimum amount of oil in the sump and a larger quantity in the separate oil reservoir, thus protecting the oil from thermal breakdown. Thermal breakdown occurs when engine heat triggers a chemical reaction in the engine oil, which causes the oil viscosity to change. Correct viscosity is crucial in ensuring the oil flows smoothly while properly coating metal engine components to prevent metal-on-metal contact.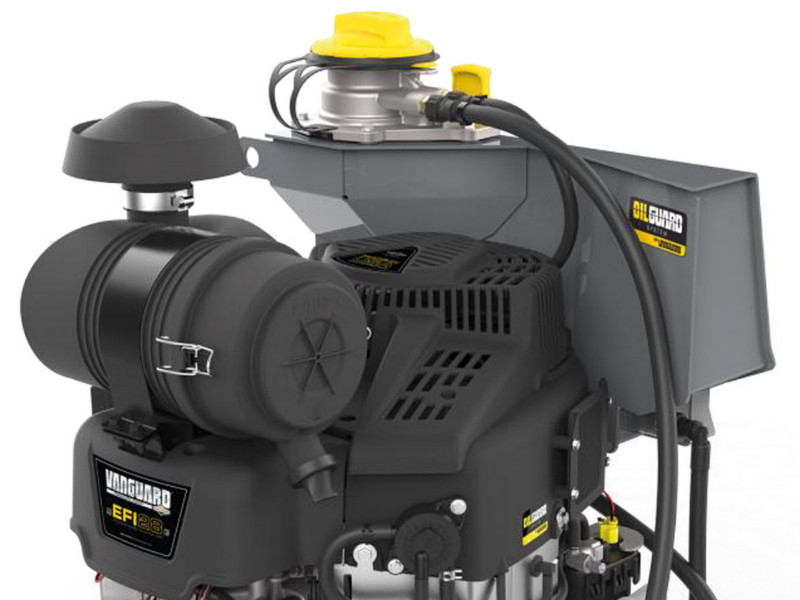 The external oil reservoir is made from aluminium which disperses the heat and helps to extend oil maintenance intervals to a recommended 500 hours instead of the typical 100 hours. The reservoir is made from 3.2mm thick aluminium which has a very good corrosion resistance and is extremely robust.
A pump at the base of the engine circulates oil from the engine to the reservoir where it passes through the filter and then flows from the base of the tank back to the engine by gravity.
Oil changes are faster and easier than ever, as the engine oil can be changed without tools. The oil is drained via a valve at the rear of the machine. The oil reservoir cap is removed by a quarter turn, revealing the oil filter which is also removed with a quarter turn. The widemouth tank opening easily takes five litre oil bottles for no mess and no need for a funnel.
The Vanguard™ Oil Guard™ system will be exclusively available on Ferris® mowers and is a factory-integrated technology, not an aftermarket add-on.