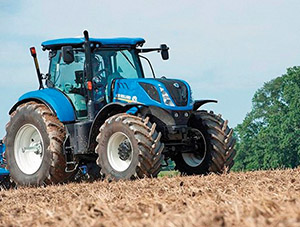 With more farmers relying on used machinery or making their kit last longer, Blue Label Season Protect from New Holland offers one of the highest levels of protection in the business and – most importantly – will save you money and stress while improving productivity.
Blue Label Season Protect is an innovative new extended warranty that offers exceptional protection for owners of used New Holland machinery. The scheme provides season-long mechanical cover at a fraction of the cost of major component failures, it reimburses parts & labour (excluding VAT), has no excess, and an overall claims limit of the total machine value!
Blue Label protection is available for machines under 7 years old or with up to 7,000 hours on the clock and, even better, it can be transferred to the new owner when you sell the machine, enhancing the resale value.
Two levels of cover are available – Silver and Gold Plus. Both cover engine, transmission, driveline, differentials and final drive, hydrostatic pump and motor as well as the fuel system. The Gold Plus option additionally covers the steering pump, hydraulic pumps, hydraulic valves and hydraulic cylinders.
With Blue Label Season Protect, repairs will be carried out by our factory-trained technicians using genuine New Holland parts, meaning that you will not only have peace of mind, but you will also benefit from a fixed cost of ownership with reduced down-time. Exclusions are few and are limited to such obvious things as wear and tear, pre-existing faults, repeat failures and extraneous damage.
Contact your T H WHITE rep for all the details and find out how easy it is to give your used equipment the protection normally only available on new items under warranty.